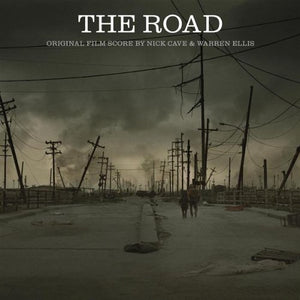 NICK CAVE & WARREN ELLIS - THE ROAD (ORIGINAL FILM SCORE) VINYL (LTD. ED. GREY SMOKE GATEFOLD)
Regular price £19.99 Sale
LIMITED EDITION GREY SMOKE VINYL GATEFOLD
Release Date: 2nd August 2019
Nick Cave and Warren Ellis' soundtrack for the film-adaptation of Cormac Mccarthy's epic post-apocalyptic tale is available on vinyl for the first time, ten years on since the film's initial release. Suitability eerie, dark, and tense, yet stunning and beautiful - Cave and Ellis do an incredible job of balancing the lot into one wonderful score. 
FFO:
 

Johanm Johannsson, 

Jonny Greenwood, Angelo Badalamenti, movie soundtracks

 

"Nick Cave and Warren Ellis release their soundtrack to The Road, a movie directed by John Hillcoat. This big screen adaptation of the bestselling, pulitzer prize-winning novel the road by Cormac Mccarthy (author of No Country for Old Men) sees academy award-nominee Viggo Mortensen leading an all-star cast featuring Charlize Theron, Robert Duvall, Guy Pearce and young newcomer Kodi Smit-Mcphee. An epic post-apocalyptic tale of survival of a father and his young son journeying across a barren america destroyed by a mysterious cataclysm, The Road boldly imagines a future in which men are pushed to the worst and the best that they are capable of - a future in which a father and his son are sustained by love. Nick Cave and Warren Ellis have created an evocative score featuring violin and piano with beautiful fleeting melodies and eerie sound loops filled with terror and suspense. the movie is about the loss of things, the absence of things, the lack of things. the lack of the wife / mother is present in every frame of the film. The delicate edifice of the film holds the ache of her absence, tenderly and by the tips of the fingers. The music was composed as a direct response to the film. a light, haunting, simple score with a sense of absence and loss at its heart."