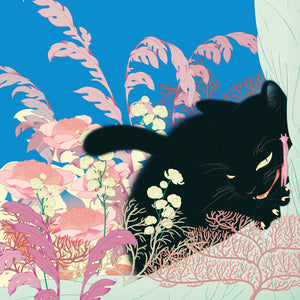 MAURICE FULTON - EARTH EP VINYL (12")
Regular price £10.99 Sale
Release Date: 20th March 2020

The 2nd

 release from Peggy Gou's Gudu Records is from one of the most revered producers in underground dance music - the enigmatic Maurice Fulton, aka BOOF (plus a plethora of other aliases). Fulton is known for his unique blends of deep house with disco and funk flourishes which is in abundance on Earth, the 3 track EP which also includes a collaboration with Peggy Gou herself! Better be ready to boogie!
FFO: BOOF, Peggy Gou, Prins Thomas, Lindstrom
"Following its 2019 launch with Peggy Gou's 'Moment' EP and a follow up 12" from DMX Krew, Gudu Records continues its journey with one of the true heroes of the underground, Maurice Fulton. Consisting of three diverse tracks, the 'Earth' EP captures a shared love of esoteric experiments in house, disco and funk, delivering a different flavour with each cut. The EP opens with a collaboration between Fulton and label founder Peggy Gou: 'Jigoo' is the sound of both artists in full swing, combining a rolling, infectious bassline with the sort of joyous chords that have won Gou's previous productions quite so much play. Vintage Chicago house drum work drives the track forward, while a series of psychedelic breakdowns combine to create another understated club anthem in waiting. On the B side, 'Not Sure How I Would' may offer the perfect introduction for those yet to have fully immersed themselves in Fulton's wonderful back catalogue. A chugging bassline, live drums and guitar plus a barrage of effects invite listeners into a hugely accomplished, utterly unpredictable dancefloor space, one primed to invite full-scale freakouts for heads-down crowds. Finally, 'One Itself' provides the most understated moment on Gudu thus far. Slowly and surely bubbling, yet more raw percussion intertwines wildly with fizzy, analogue manipulations, Fulton engineers a veritable pressure-cooker of slo-mo rave euphoria that could once again leave a dancefloor spinning on its collective head."