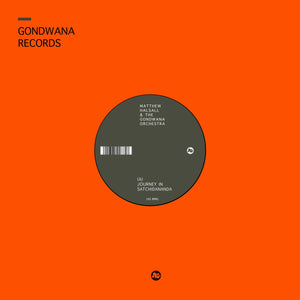 MATTHEW HALSALL & THE GONDWANA ORCHESTRA - JOURNEY INTO SATCHIDANANDA VINYL RE-ISSUE (12")
Regular price £10.99 Sale
Release Date: 24th August 2018
In celebration of Gondwana Records' 10th anniversary, here we have the re-issue of these two incredible Alice Coltrane covered by Gondwana Record's Matthew Halsall and The Gondwana Orchestra which was originally released in 2015. Halsall makes no secret of his love for Alice Coltrane's music, having penned his incredible When The World Was One LP in honour of her, which even included the closer 'Tribute to Alice Coltrane' and these two covers do the tracks more than just justice by putting Halsall's own spin on them. Wonderful stuff!
For Fans Of: Alice Coltrane, Mammal Hands, Maisha, Sam Wilkes
"Originally issued back in 2015 and now selling for silly money, Gondwana Records is delighted to announce the re-release of Matthew Halsall & The Gondwana Orchestra's tribute to Allce Coltrane / Journey in Satchidananda and Blue Nile. Featuring Matthew Halsall trumpet, Lisa Mallett flute, Rachael Gladwin harp, Taz Modi piano, Gavin Barras bass, Gaz Hughes drums and Nat Birchall percussion and recorded at the legendary Maida Vale Studios. Packed in a distinctive bright orange Gondwana Records sleeve this is the first in a collectors series of spiritual jazz limited-edition EPs set for release in 2018 as part of Gondwana Records' 10th anniversary."