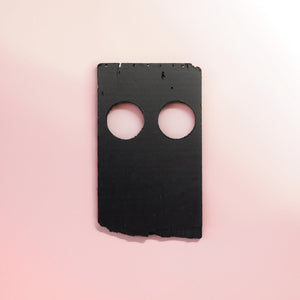 LOW - DOUBLE NEGATIVE VINYL (LTD. 'LOSER' ED. CRYSTAL CLEAR W/ EMBOSSED SLEEVE)
Regular price £19.99 Sale
LIMITED 'LOSER' EDITION CRYSTAL CLEAR VINYL W/ EMBOSSED SLEEVE
Release Date: 14th September 2018
Low celebrate their 25th anniversary with their most daring, abrasive and electronic record to-date! Double Negative is so textured that when you listen to it with your eyes closed, you feel as if you could reach out and touch it. Even for a band that has always pushed the boundaries on which they are defined and taken left-turns, this feels like a defining moment as if they have finally accepted their fate of fully submerging into the darkness and embracing it rather than fighting it. Dark, twisted, heavy electronic folk-rock from the married masters of Alan Sparhawk and Mimi Parker!
For Fans Of: Marissa Nadler, Julia Holter, Grouper, Oneohtrix Point Never
"In 2018, Low will turn twenty-five. Since 1993, Alan Sparhawk and Mimi Parker—the married couple whose heaven-and-earth harmonies have always held the band's center—have pioneered a subgenre, shrugged off its strictures, recorded a Christmas classic, become a magnetic onstage force, and emerged as one of music's most steadfast and vital vehicles for pulling light from our darkest emotional recesses. But Low will not commemorate its first quarter-century with mawkish nostalgia or safe runs through songbook favorites. Instead, in faithfully defiant fashion, Low will release its most brazen, abrasive (and, paradoxically, most empowering) album ever: Double Negative, an unflinching eleven-song quest through snarling static and shattering beats that somehow culminates in the brightest pop song of Low's career. To make Double Negative, Low reenlisted B.J. Burton, the quietly energetic and adventurous producer who has made records with James Blake, Sylvan Esso, and The Tallest Man on Earth in recent years while working as one of the go-to figures at Bon Iver's home studio, April Base. Burton recorded Low's last album, 2015's Ones and Sixes, at April Base, adding might to many of its beats and squelch and frisson beneath many of its melodies. This time, though, Sparhawk, Parker, and bassist Steve Garrington knew they wanted to go further with Burton and his palette of sounds, to see what someone who is, as Sparhawk puts it, "a hip-hop guy" could truly do to their music. Band and producer became collaborative cowriters, building the pieces up and breaking them down and building them again until their purpose and force felt clear."