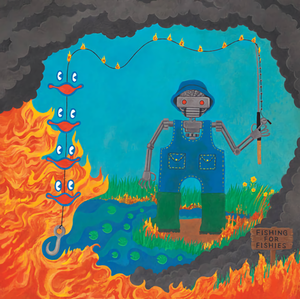 KING GIZZARD & THE LIZARD WIZARD - FISHING FOR FISHIES VINYL (LTD. ED. 'SWAMP' GREEN)
Regular price £21.99 Sale
LIMITED EDITION 'SWAMP' GREEN VINYL
Release Date: 26th April 2019
The prolific Australian psych-rockers bring us their first release of 2019 and off the back fo their 5 albums released in 2018 alone!
 

Fishing For Fishies is their most straight-up, catchy record to-date with a bouncy blues-boogie backbone & psych-guitar sheds. Go fish! 
For Fans Of: Thee Oh Sees, King Tuff, Snapped Ankles, Wooden Shjips
"The seven-headed Aussie rock beast King Gizzard & The Lizard Wizard return with 'Fishing For Fishies', perhaps their most perfectly-realised album to date. Released on the band's own Flightless Records, here is a world where the organic meets the automated; where the rustic meets the robotic. Where the past and future collide in the beautiful present. The fourteenth album since their 2012 debut - and their first following the release of five vastly different albums in 2017 - 'Fishing For Fishies' is a blues-infused blast of sonic boogie that struts and shimmies through several moods and terrains. From the soft shuffle Outback country of the opening title track through the sunny easy listening of 'The Bird Song' (think a lysergically-soaked Laurel Canyon circa 1973) and on through the party funk of 'Plastic Boogie' (which somehow summons the spirit of Stevie Wonder's 'Innervisions') the road-trucking, Doors-like highway rock of 'The Cruel Millennial' and 'Real's Not Real' - what Carpenters might have sounded like had they existed entirely on vegemite and weed - it's a dizzying, dazzling display which addresses a number of pertinent environmental issues along the way. "We tried to make a blues record," says frontman Stu Mackenzie. "A blues- boogie-shuffle-kinda-thing, but the songs kept fighting it - or maybe it was us fighting them. Ultimately though we let the songs guide us this time; we let them have their own personalities and forge their own path. Paths of light, paths of darkness. This is a collection of songs that went on wild journeys of transformation." Quiet though it was on the record front, 2018 was hardly a year of rest - almost in perpetual motion, they continued their unstoppable rise as their juggernaut of a live show grew and grew and grew, with a mind-blowing headline slot at last year's Green Man Festival, a massive sold-out US tour in the summer which saw them play their biggest venues to date, a brainfrying sold out Brixton Academy show, two gigs in Russia and Istanbul where they played in front of over 15,000 people and putting on the fourth edition of their annual Gizzfest in Melbourne amongst the highlights."