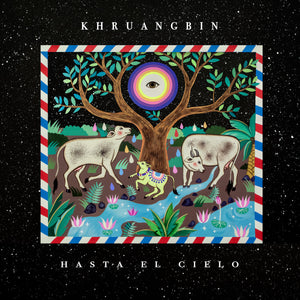 KHRUANGBIN - HASTA EL CIELO (CON TODO EL MONDO IN DUB) VINYL (LTD. ED. YELLOW LP + YELLOW 7")
Regular price £21.99 Sale
LIMITED EDITION YELLOW VINYL LP + BONUS YELLOW 7"
Release Date: 12th July 2019
Long-time lovers of dub, Khruangbin bring forth a dub re-mix version of their incredible 2018 album Con Todo El Mundo. The whole album has been produced anew in dub plus an additional 7" featuring two bonus dubs by renowned Jamaican producer Scientist. Rub-a-dub-dub!
For Fans Of: Dub music, Everything is Recorded, The Comet is Coming, Forest Swords
"Globetrotting Texan trio Khruangbin are set to release 'Hasta El Cielo', the band's glorious dub version of their second album 'Con Todo El Mundo'. The full album has been processed anew along with two bonus dubs by renowned Jamaican producer Scientist. The band's exotic, spacious, psychedelic funk aligns with the dub treatment particularly well. Indeed, keen fans won't find this a surprising release. Dubs of tracks from their first album 'The Universe Smiles Upon You' appeared on limited vinyl releases of 'People Everywhere' for Record Store Day 2016 and 'Zionsville' on the BoogieFuturo remix 12". The especially eagle-eared will have caught a dub of 'Two Fish And An Elephant' playing over the credits of the track's celebrated video. "For us, Dub has always felt like a prayer. Spacious, meditative, able to transport the listener to another realm. The first dub albums we listened to were records mixed by Scientist featuring the music of the Roots Radics. Laura Lee learned to play bass by listening to Scientist Wins the World Cup. His unique mixing style, with the emphasis on space and texture, creates the feeling of frozen time; it was hugely influential to us as a band. To be able to work alongside Scientist, a legend in the history of dub, is an honor. This is our dub version of Con Todo El Mundo." - Khruangbin. Formed of Laura Lee on bass, Mark Speer on guitar, and Donald "DJ" Johnson on drums; Khruangbin's sounds are rooted in the deepest waters of music from around the world, infused with classic soul, dub and psychedelia. Their 2015 debut album 'The Universe Smiles Upon You' was heavily influenced by 60's and 70's Thai cassettes the band listened to on their long car journeys to rehearsal in the Texan countryside. 2018's follow up 'Con Todo El Mundo', which received hugely positive critical reactions and radio play around the world, took inspiration not just from South East Asia but similarly underdiscovered funk and soul of the Mediterranean and the Middle East, particularly Iran."