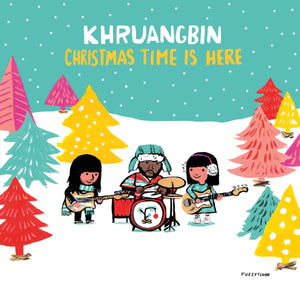 KHRUANGBIN - CHRISTMAS TIME IS HERE VINYL (LTD. 'COVID MASK' ED. RED 7")
Regular price £11.99 Sale
LIMITED EDITION 'COVID MASK EDITION' RED 7" VINYL
Release Date: 6th November 2020
Limited edition pressing of only 1,000! The jazz-funk groovers bring us our new favourite Christmas track plus a re-mixed version on the flip side. Have yourself a Merry Khruangbin Christmas now!
FFO: Christmas, STUFF., Thundercat, The Invisible
"At the close of a marathon year supporting their breakthrough album, Con Todo El Mundo, Khruangbin return with an exciting addition - an update on Vince Guaraldi's timeless Christmas Time Is Here. "Growing up the three of us all had very different Christmases," says bassist Laura Lee. "But we recently discovered we all had the exact same favourite Christmas song. When we realized it, we sat down to play it and it came together instantly. In 15 minutes we had this recorded. It was like the best Christmas present ever." With ambling sweetness and a fresh, beat-driven groove, Khruangbin have taken this oft-covered classic and made it wholly their own. Get stoked for your Khruangbin Christmas and book a curated playlist for an upcoming flight with AirKhruang."