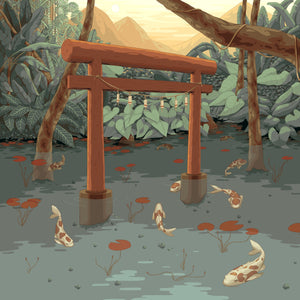 KENNEBEC - DEPARTURE VINYL (LP)
Regular price £18.99 £16.99 Sale
Release Date: 14th February 2020
The debut album from the Portland-based musician and composer Eric Philips is a thing of beauty!
 

Departure

 

is the meeting of acoustic and electronic, of organic and synthesized, of East and West. There is a delicate yin and yang balance to the whole thing as hip-hop influenced dusty lo-fi beats underpin Eastern-influenced wood-winds, jazz-leaning brass sections, classical orchestral flourishes and funky rhythm sections. Glorious!
For Fans Of/You May Also Like: Bonobo, Portico Quartet, The Cinematic Orchestra, Sam Wilkes
"Based out of a Portland and working as a teacher, film composer, and mentorship under Mark Orton (Nebraska, Tin Hat.) Eric Phillips' musical vision for Kennebec - a catalogue of his time spent in the Olympic Peninsula - led to him producing 'Departure' in Spring 2017. It took two long years of patient, daily labour to complete the album, during which time influences such as Studio Ghibli soundtrack composer Joe Hisaishi, cult hip hop artist Nujabes as well as Australia's Taylor Crawford and Tycho's ambient electronica began to permeate the soundworld. On February 14th 2020, Night Time Stories, sister label of acclaimed Late Night Tales, will release his much anticipated debut album and Kennebec will become part of an internationally respected roster including Khraungbin, Leifur James and Ash Walker. On 'Departure', organic beats and soaring string lines envelope the listener with a dreamful kind of optimism. New single 'Seasons Change' is a silky myriad of sounds, textures and techniques that melt against a backdrop of subtle electronics, while 'Kalahari' glistens with curiosity and adventure as magnetic strings meet with a mosaic of horns. Elsewhere, the melancholic and wistful moods of 'Wellspring' provide a moment of reflection before the warm, fuzzy, feel good grooves of 'Quest', embellished by flutes and sax, venture into more overt atmospherics and fluid modulations. In addition to the Kennebec project, Phillips has enjoyed working on and composing the music for numerous feature films, shorts, national parks films, documentaries (including 2017's National Geographic 'From the Ashes'), advertisements and video games. Films Phillip's has worked on have screened and are set to screen at the Toronto, Napa Valley and Big Sky film festivals as well as National Geographic and more."