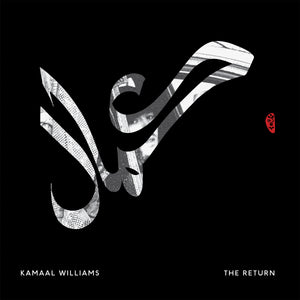 KAMAAL WILLIAMS - THE RETURN VINYL (LTD. ED. WHITE)
Regular price £18.99 Sale
LIMITED EDITION WHITE VINYL
Release Date: 25th May 2018
One half of the much missed duo Yussef Kamaal is back! Kamaal Williams brings us first debut solo album as Kamaal Williams, having also previously released numerous 12" under the moniker Henry Wu.
 

The Return

 

is the natural evolution of the music Williams was making with Yussef Dayes as Yussef Kamaal and see's him delving even more into the

 

sounds of jazz and funk. The record is a free-spirited cosmic odyssey of exploratory London-inspired sounds and it's one not to be missed! 
For Fans Of: 
Yussef Kamaal, Alfa Mist, The Comet Is Coming, Kamasi Washington
"Whether re-defining experimental fusion sounds with the hugley acclaimed Yussef Kamaal, or his catalogue of 12"s for imprints such as MCDE, Eglo, and Rhythm Section as Henry Wu, South London's Kamaal Williams has been a key figure in his thriving international scene for the past few years. The Return is a natural evolution from the Yussef Kamaal project, mining the influence of visionary jazz but blended with all kinds of texture, sounds and signals from the over-saturated London streets. At times the keyboard work evokes the classic 70s fusion work of Lonnie Liston Smith or Roy Ayers, but underpinned by rhythms more reminiscent of blunted hip-hop and arrangements subliminally laced with the cut-ups of pirate radio. Progressive, funky, cosmic, exploratory and effortlessly musical, this is the sound of a musician honing their craft into thrilling new shapes. In the US the like of Kamasi Washington and Thundercat have made great strides in opening a whole new dialogue between jazz and hip-hop, drawing in a young, highly engaged new audience in the process. Kamaal Williams mine a similar seam on the other side of the Atlantic alongside other exciting London talents such as Ezra Collective, Ruby Rushton and Shabaka Hutchings. The Return is exactly that: a return and refinement to the sound Yussef Kamaal were progenitors of, and first set the scene for one of the most exciting musical movements London has had in years. Notable tracks for old and new listeners are Slow, Situations, Medina, London Shuffle which features Mansur Brown (of Mansur's Message) and for those die hard Yussef Kamaal fans - they should hear the interpolated roots of Strings of Light in the title track The Return. And that signature Wu Funk can be heard on Broken Theme, and High Roller. The Return is the debut album released on Wu's new label Black Focus Records."