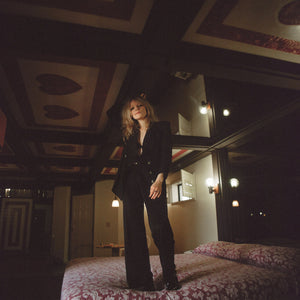 JESSICA PRATT - QUIET SIGNS VINYL (LTD. ED. CRYSTAL CLEAR)
Regular price £19.99 Sale
LIMITED EDITON CRYSTAL CLEAR VINYL
Release Date: 8th February 2019
Haunting and achingly beautiful nostalgic folk music from this supremely talented American singer-songwriter on her third and finest solo outing. Quiet Signs captivates it's audience with a hushed hypnotism and delicate dedication. Who says your need to make a racket to get people's attention!? 
FFO: Lomelda, Julia Holter, Molly Burch, Weyes Blood
"Quiet Signs is the journey of an artist stepping out of the darkened wings, growing comfortable as a solitary figure on a sprawling stage. Jessica Pratt is not a loud performer. She does not have to be. In a club of a few hundred, even the bar staff are known to go quiet while she's on stage. Her third album, Quiet Signs, feels like a distillation of this power. The album leads off with 'Opening Night', a nod to Gena Rowlands' harrowing, brilliant performance in the John Cassavetes film of the same name, as well as to where this spare, beautiful collection of songs falls within the course of the California artist's career. Quiet Signs is also Pratt's first album fully recorded in a professional studio setting, her songs and guitar arrangements have been pared back to include only what is essential, while the home recorded haze of previous efforts parts to reveal the full scope of her vision. On the first single, 'This Time Around', Pratt hits on a profound, late-night clarity over just a couple of deep chords, evoking Caetano Veloso's casual coastal brilliance. The album was written in Los Angeles and recorded at Gary's Electric in Brooklyn, NY over 2017/2018. It was co-produced by Al Carlson, who contributes flute, organ and piano. Matt McDermott also played piano and string synthesizer."