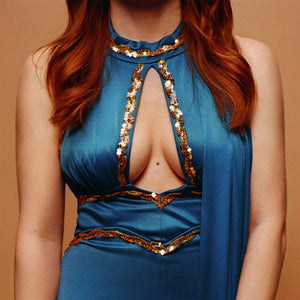 JENNY LEWIS - ON THE LINE VINYL (LTD. ED. BLUE)
Regular price £19.99 Sale
LIMITED EDITION BLUE VINYL
Release Date: 22nd March 2019
The fourth solo album from Jenny Lewis, who used to front the indie-rock band Rilo Kiley, is her most confident and commanding yet! Including a plethora of musical guest contributions including the likes of Beck, On the Line is an instant-classic of a record with it's catchy hooks and stellar production all topped off with Lewis' all-so sexy and cool voice!
For Fans Of: Beck, Rilo Kiley, Karen O, Sharon Van Etten
"Jenny Lewis has confirmed her highly anticipated return with her fourth solo album, On The Line - the follow up to 2014's critically acclaimed The Voyager - out spring 2019 on Warner Bros Records. The 11 all new original songs were written by Lewis and recorded at Capitol Records' Studio B, and feature a backing band of legendary talent including Beck, Benmont Tench, Don Was, Jim Keltner, Ringo Starr and Ryan Adams. Jenny has also announced her first round of 2019 headlining dates. The March-May 2019 itinerary includes stops at Chicago's Riviera Theatre, Nashville's historic Ryman Auditorium, Seattle's Moore Theatre, The Palace in St. Paul, the Hollywood Palladium and many more plus an appearance at ACL Live at the Moody Theatre set for April 6th."