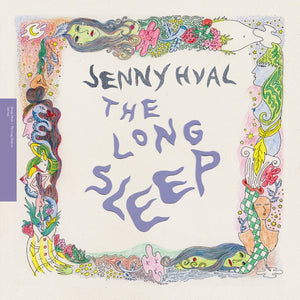 JENNY HVAL - THE LONG SLEEP VINYL (SUPER LTD. ED. PURPLE)
Regular price £14.99 Sale
SUPER LIMITED EDITION PURPLE VINYL
Release Date: 25th May 2018
Super limited edition (only 350 for UK). The Norwegian experimental artist is back with an incredible new release which sees her freeing herself of conceptual restraints and collaborating with jazz musicians to create an EP that centres on one central piece that expands into different fragments and versions from the same focal point. This is in-turn Hval's most accessible and abstract record to-date, with the original opening track coming off as a nostalgic 80s inspired synth-pop classic and then for the fragments of it to be some of the most experimental and abstract work she is yet to do. Whatever you do - don't "sleep" on this one! 
FFO: Holly Herndon, Kaitlyn Aurelia Smith, Julia Holter,
 

Grouper

 

"The follow-up to Jenny Hval's acclaimed 2016 album Blood Bitch is The Long Sleep, an adventurous new EP that sees the Norwegian multidisciplinary artist embracing an instinctive, even subconscious, approach to creating meaning. In contrast to Hval's more explicitly conceptual work, The Long Sleep foregrounds the act of composition itself, letting the melodies and structures reveal the other elements of the songs. All of the songs on the EP recycle the same compositional motives, but manipulate them into very different shapes that take them further and further out of their original, "life-like" context. Hval recorded The Long Sleep with longtime collaborator Havard Volden and producer Lasse Marhaug, along with an ace new supporting cast of talented players from the jazz world — Kyrre Laastad on percussion, Anja Lauvdal on piano, Espen Reinertsen on saxophone, and Eivind Lønning on trumpet. Hval calls them some of her favorite contemporary musicians, and their musical background helps to give the songs on The Long Sleep their intuitive, improvised feel."