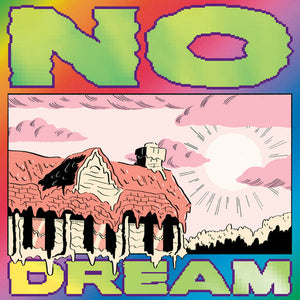 JEFF ROSENSTOCK - NO DREAM VINYL (LTD. ED. PINK / SUPER LTD. ED. SEAFOAM IMPORT)
Regular price £17.99 Sale
VERSION 1: LIMITED EDITION PINK VINYL
VERSION 2: SUPER LIMITED EDITION SEAFOAM VINYL IMPORT
VERSION 3: LIMITED EDITION YELLOW / GREEN VINYL RE-ISSUE (PRESSING OF 500)
Release Date: 21st August 2020
Jeff's back with another banger of a record – just in time to soundtrack the world falling apart! As honest, raw and energetic as punk-rock gets right now. 'You will not control'!
For Fans Of/You May Also Like: 
Antarctigo
 Vespucci, The Homeless Gospel Choir, PUP, Joyce Manor
"Multi-talented US punk, Jeff Rosenstock releases fourth album on Specialist Subject Records (UK /EU) & Polyvinyl (Worldwide)! NO DREAM comes at a time of unparalleled chaos and confusion, division and despair, the depths of which would have been impossible to predict when much of it was being written over the course of the last few years. And yet the record feels prescient, unexpectedly and uniquely suited for this moment. Newly settled in Los Angeles after a lifetime on the East Coast (namely Brooklyn by way of Long Island), Rosenstock recorded NO DREAM with Jack Shirley (Deafheaven, Hard Girls, Joyce Manor) at Oakland's Atomic Garden, and even took on mixing duties alongside Shirley for the first time. Opting to stay off the computer "even more than usual" and record to tape with outboard gear, the result is a lived-in sound that gives each song its own individual voice and organic energy. After building a cult following with the acerbic ska-punk of the Arrogant Sons of Bitches and DIY heroics of Bomb the Music Industry!, Rosenstock's first proper solo record, 2015's We Cool?, was a step into uncharted territory, fully untethered from genre and expectation. Followed by 2016's WORRY. and the surprise New Year's Day launch of POST- in the early hours of 2018, Rosenstock was facing down that least punk of opportunities: a career playing music. Having taken some time away from his work as a solo artist to recalibrate and reset over the last year, Rosenstock stayed busy playing alongside Mikey Erg, recording and touring with the Bruce Lee Band, releasing a Neil Young covers record with frequent collaborator Laura Stevenson, reissuing two of his own out-of-print early albums, compiling a live album which was recorded during a run of four sold-out shows at Bowery Ballroom, making a 76 page photo book, and scoring over 80 episodes of the Cartoon Network series Craig of the Creek. In fully returning to his own voice, it's no surprise that Rosenstock's output has never been more eclectic, reflected across NO DREAM's 13 songs."