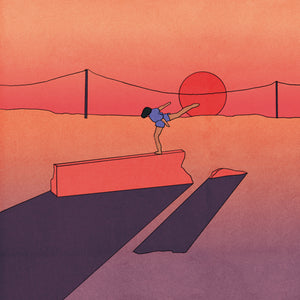 JAY SOM - ANAK KO VINYL (LTD. ED. RED, ORANGE & PINK SPLATTER GATEFOLD)
Regular price £18.99 Sale
LIMITED EDITION RED, ORANGE & PINK SPLATTER VINYL GATEFOLD 
Release Date: 23rd August 2019
Jay Som, aka the musical output of San Fran singer-songwriter Melina Duterte, brings us her 3rd album and follow-up to her incredible 2017 breakthrough album Everybody Works. As with her previous works, Duterte recorded and produced Anak Ko (Filipino for "my child") herself. But this time around the quality and sound seems bigger and brighter and highlights her playful take on 80's and 90's indie-rock, pop-rock and electro, even better. Expect big, catchy hooks that will have you hooked!
For Fans Of: Mitski, SASAMI, Black Belt Eagle Scout, Soccer Mommy 
"Melina Duterte, aka Jay Som, wrote most of her brilliant new album, Anak Ko—pronounced Ah-nuh Koh and meaning "my child" in Filipino—in a burst during a self-imposed week-long solo retreat to Joshua Tree. As in the past, Duterte recorded at home and remained the sole producer, engineer, and mixer. Honing in on simplicity and groove, refining her skills as a producer, Duterte cracked her sound open subtly, highlighting its best parts: She's bloomed. Inspired by the lush, poppy sounds of 80s bands such as Prefab Sprout, the Cure, and Cocteau Twins—as well as the ecstatic guitarwork of contemporary Vancouver band Weed—Anak Ko sounds dazzlingly tactile, and firmly present. The result is a refreshingly precise sound."