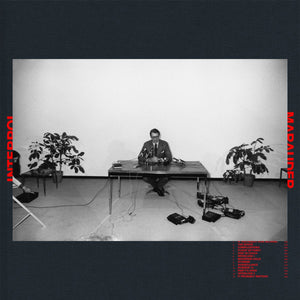 INTERPOL - MARAUDER VINYL (LTD. ED. CREAM)
Regular price £16.99 Sale
LIMITED EDITION CREAM VINYL
Release Date: 24th August 2018
Interpol are back with their sixth album, and best since 2007's Our Love to Admire. Marauder is a return to form for the New York indie-rock heroes which is no doubt helped by the first outside input from a producer since their last decent record. The record has that old school Interpol feel of a moody late-night darkly lit dance-floor somewhere underground. It's rocking, it's atmospheric and it's pretty damn funky! If you've been put off the band since Our Love to Admire, then I would suggest tuning back in! 
For Fans Of: The Districts, Modest Mouse, Bloc Party, Artic Monkeys
"For the first time since 2007's Our Love to Admire, Interpol have opened themselves up to the input of a producer. For two-week spells between December of 2017 to April of 2018, they travelled to upstate New York to work with Dave Fridmann – famed for recording with Mercury Rev, Flaming Lips, MGMT, Spoon, Mogwai, and countless more. In the run up to writing and recording, Sam found himself immersed in soul drummers such as Al Jackson Jr (Otis Redding's drummer) and 80's funk producers Jimmy Jam and Terry Lewis. "How can I make shit swing?" was the question Sam repeatedly asked himself, and the answer is in the striding gallop of opener If You Really Love Nothing, the embellished skip 'n' bounce of Stay in Touch and the R&B swagger of closer It Probably Matters. Interpol have always been world-beaters at creating a feeling, but Marauder is where the feel is just as crucial. Paul may have stepped out of the shadows as a bassist, but he's stepping into an even brighter light as a songwriter. During Interpol's previous albums, the singer largely kept himself out of his own work, preferring to fill his lyrics with detached thoughts, characters, and observations, often phrased in abstract. But more than 20 years on since forming at NYU, the frontman is finally allowing himself to play a role in his own stories. "This record is where I feel touching on real things that have happened to me are exciting and evocative to write about," he explains. "I think in the past, I always felt autobiography was too small a thing for me to reference. I feel like now, I'm able to romanticize parts of my own life.""