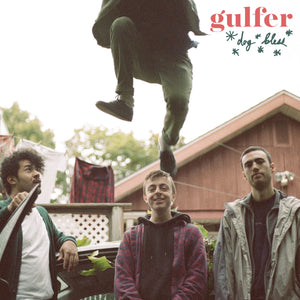 GULFER - DOG BLESS VINYL (SUPER LTD. ED. CLEAR W/ PINK SWIRL)
Regular price £18.99 Sale
SUPER LIMITED EDITION CLEAR W/ PINK SWIRL VINYL
Release Date: 2nd March 2018
Super limited edition press of only 200! A blast of expertly crafted mathy emo pop-punk from this Canadian quartet who
 

cram so many hooks and melodies within each track that it'll leave your head spinning. You'll be instantly hooked on their pick 'n' mix of tap-happy emo, mathy time signatures, energetic punk and singalong poppy moments! Be sure not to miss this one if this sort of thing is your 'bag' - 'dog bless' Gulfer!
For Fans Of: Tiny Moving Parts, Cap'n Jazz, Sinai Vessel, Into It. Over It.
"Gulfer's inception in December of 2011 feels like it occurred a lifetime ago. But that's how it's supposed to feel when the local DIY band is coming up on their sixth release and fifth international tour. Bands like Gulfer simply aren't supposed to last in this world, and they've come too long a way to go unnoticed. Perhaps that's why they just signed to Topshelf Records, Big Scary Monsters and Friend of Mine Records with their second full length record, 
Dog Bless
, due in early 2018. Predictably, the new full length from the Montreal-based quartet is their best work yet. It features a trio of three song movements, each punctuated with electronic compositions much unlike the band's previous work. At 12 songs deep, 
Dog Bless
 appears ambitious next to its 2015 predecessor 
What Gives
. But the final product matches the ambition in its eloquent delivery of anthemic, sensibly technical emo."