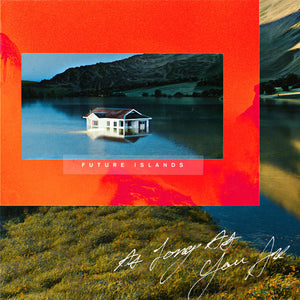 FUTURE ISLANDS - AS LONG AS YOU ARE VINYL (LTD. ED. 'PETROL' BLUE)
Regular price £20.99 £18.89 Sale
LIMITED EDITION 'PETROL' BLUE VINYL
Release Date: 9th October 2020
The 6
th
 album from the larger-than-life synth-pop band plays almost like a 
greatest hits of their career
 thus far. 
As Long 
As
 You Are
has
 everything you would want from a Future Islands record with catchy pop bangers and intimate slow-dancers in equal measure!
For Fans Of/You May Also Like: Wild Nothing, Shy Boys, Dan Deacon, Half Waif
"Baltimore group Future Islands release 'As Long As You Are', their sixth studio record, via 4AD. 'As Long As You Are' looks to the past as well as the future, confronting old ghosts and embracing a new hope. It is an album about trust, full of honesty, redemption and "letting go," allowing old wounds to heal and bringing painful chapters to a close. 'As Long As You Are' also signals a new era for Future Islands. Drummer Mike Lowry officially joins as a fully-fledged member and songwriter bolstering the founding trio of William Cashion, Samuel T. Herring and Gerrit Welmers. Together, the four-piece took on official production duties for the first time, co-producing 'As Long As You Are' with engineer Steve Wright at his Wrightway Studios in Baltimore. Their brand of new wave synth-pop, full of bright melodies and heavenly choruses, is as euphoric and uninhibitedly joyful as anything the band have done in their 14-year career."