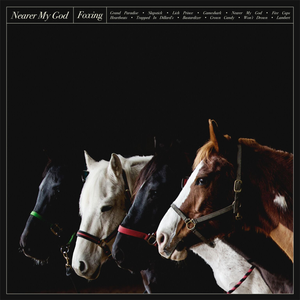 FOXING - NEARER MY GOD VINYL (LTD. ED. COKE BOTTLE CLEAR 2LP GATEFOLD)
Regular price £21.99 Sale
LIMITED EDITION COKE BOTTLE CLEAR 2LP VINYL GATEFOLD
Release Date: 10th August 2018
Limited pressing of 1,000 copies. Foxing follow-up their 2015 breakthrough album 

Dealer, with this their third album and most ambitious yet. Nearer My God is an epic in every sense - the songs are bigger and bolder than before, lyrics tackle everything from global crises, mental health, and the end of the world! However, with the helping hand of former Death Cab For Cutie guitarist and master producer Chris Walla, the band are able to

 

curb the potential of being over-the-top with a perfectly intimate, honest yet expansive record.
For Fans Of: Pinegrove, The World is a Beautiful Place..., The Hotelier, Sorority Noise
"
Foxing's much anticipated third album, Nearer My God, was produced by Chris Walla (Death Cab For Cutie, Tegan & Sara) and the bands own Eric Hudson. The record tackles such weighted subjects as religion, mental illness, political instability, global disaster and the near constant sense of impending doom. The band reflects these feelings in the albums own title which is taken from the name of a 19th-century hymn said to be the song played as the Titanic sank and used in the now infamous CNN doomsday video meant to be aired as the world ends. However, among the dark subject matter, the band delivers an album that is, without a doubt, their most immediate, complex, sonically grand and focused work yet.
"