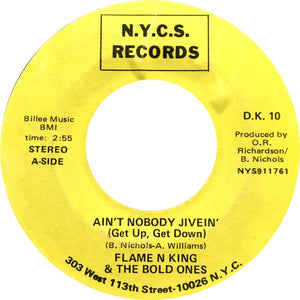 FLAME N' KING & THE BOLD ONES - AIN'T NOBODY JIVEIN' (GET UP GET DOWN) /HO HAPPY DAYS VINYL (SUPER LTD. ED. 'RECORD STORE DAY' 7")
Regular price £12.99 Sale
SUPER LIMITED EDITION 'RECORD STORE DAY' 7" VINYL
Available from Saturday 23rd April in-store on the day only. Strictly 1 per customer. Any remaining stock will be made available online at 6pm.
STRICTLY 1 PER CUSTOMER - ANY MULTIPLE ORDERS WILL NOT BE FULFILLED AND WILL INCUR REFUND FEES
Release Date: 23rd April 2022

"Perhaps one of the most enigmatic of artists on the Rare Soul scene must be Flame N' King aka Oscar Wayne Richardson Jr, who ran his various labels independently since the mid 60s. It was a surprise when the group surfaced again with a fantastic uptempo New York dance track in 1976 on the tiny N.Y.C.S. records. "Ho Happy Day" found immediate favour with the Modern Soul crowd but it took the next 30 years for it to eventually become a Modern Soul anthem and cross over to a wider audience. These days "Ho Happy Day" can be heard at numerous venues across the world and is a bigger floor-filler now than it was back in the 1970s. We're delighted to finally re-issue this classic on the original N.Y.C.S. imprint and watch it find even more audiences in 2022. An original copy will cost circa £250 these days, so there's already a heavy demand for this long-awaited re-issue."