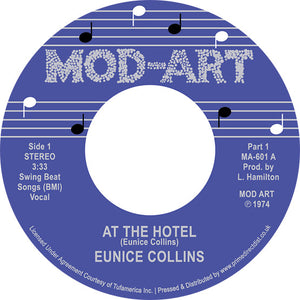 EUNICE COLLINS - AT THE HOTEL VINYL (SUPER LTD. ED. 'RECORD STORE DAY' 7")
Regular price £13.99 Sale
SUPER LIMITED EDITION 'RECORD STORE DAY' 7" VINYL
Available from Saturday 23rd April in-store on the day only. Strictly 1 per customer. Any remaining stock will be made available online at 6pm.
STRICTLY 1 PER CUSTOMER - ANY MULTIPLE ORDERS WILL NOT BE FULFILLED AND WILL INCUR REFUND FEES
Release Date: 23rd April 2022

"One of the releases we're really hyped about! This was Eunice Collins ONLY release EVER! Released on the tiny Mod-Art label from Chicago in 1974, the hynotically alluring "At The Hotel" has finally emerged from the shadows over the last 10 years or so. In fact, it's a bona-fide cult classic now with no less than 3 recent samplings by Lion Babe, Alkalino and Flamingosis. We proud to re-release this totally unique recording on the original Mod-Art imprint. Also, worth checking is the out-of-this-world flute intrumental version on the flip. Probably one of the most individual Modern Soul records ever. Current value is in the £750 region for a decent copy. Expect plenty of all-round action on this and it should work across a few scenes. Plus will sell forever. We are so lucky to get these works-of-art out there again."