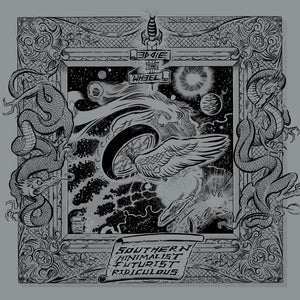 EDDIE THE WHEEL - SOUTHERN MINIMALIST FUTURIST RIDICULOUS VINYL (LTD. ED. INDIE EXCL.)
Regular price £17.99 Sale
LIMITED EDITION INDIE EXCLUSIVE VINYL LP
Release Date: 30th October 2020
Limited edition pressing of only 150! Eddie "The Wheel" Whelan brings us his debut album long in the making. 

Southern Minimalist Futurist Ridiculous is lo-fi brought to life and has a sonic world all of its own - where a plethora of genres meet up to have an apocalyptic boogie together. It's dream-pop dancing with psych-rock; indie-rock and shoegaze hanging out with synth-pop; and there's even a couple of glitchy electronica tunes to complete the set. It's Number One in my book, kid!
FFO: Amen Dunes, Joyero, Deerhunter, No Age
"Athens, GA songwriter and visual artist Eddie Whelan releases his long-awaited debut album on Vibe/Anti-Vibe. A gorgeously-layered record borne out of home recordings with drum machines and synths before being brought to its final, shiny (literally, the LP is released with a reflective mirror board sleeve) state thanks to mixing from Hank Sullivant (MGMT). Originating from Athens Georgia (home to REM, the B-52's, Deerhunter, Pylon and other indie rock luminaries) in America (RIP), Eddie Whelan relocated to London in 2013 to pursue a career as a visual artist where he honed his craft working on Fashion Week shows, directing music videos for Jarvis Cocker and giving art direction to major fashion brands. During this time Eddie was also amassing a collection of bedroom recordings as part of his Eddie the Wheel solo project. Eddie enlisted friends and acquaintances to contribute to recordings whilst in London before sending the songs back across the Atlantic to be mixed by Hank Sullivant (MGMT) where the songs took a new life of their own, becoming 'Southern Minimalist Futurist Ridiculous'. After releasing lead single 'Leave Behind' digitally and on tape for Cassette Store Day, a drum machine-led track which blends Eddie's positive, uplifting vocals with driving guitar and heartening synths, reached 900,000 plays on Spotify leading to Eddie being invited to be official tour support for Amen Dunes (Sacred Bones Recordings) on his tour across the UK and Europe. The record starts with a bum note from a wild guitar before ceremoniously drifting into the slacker dreampop of 'Automatic Speed'. Although the LP starts loose, it quickly tightens up with the endearingly and lightly anthemic 'Leave Behind' and 'Lesser Than'. Eddie's positive truisms, beautiful guitar runs and swirling synths gradually reveal themselves over the propulsion of a drum machine which drives the songs on their own psych-pop adventures. Guitars drone, arpeggiate, slide into synthesis and there's even a hint of Mogwai-esque post-rock. The other face to the record features Eddie going on unexpected spaced-out synth and techno side quests ('11:33', 'Tuesday') which further create the sci-fi world this record seems to inhibit. If those jaunts add a coldness to the project, it's love songs like 'Number One' and 'Reverse' which bring the LP back down to earth and more present concerns. The latter featuring a scrapped recording session, flipped into reverse with Eddie writing a new track over the existing effort and guesting Eddie's wife on whispered vocals on the final few minutes of the song. Maybe this was just a curious experiment but Eddie unassumingly contributed one of the highlights of the record by salvaging the abandoned recording session. Although a solo project, the list of contributors Eddie invited to play or produce songs for the record reads as a who's who of the London/Athens GA DIY underground scene, including Hank Sullivant (The Whigs / Kuroma / MGMT), Rory Attwell (Bratwell recordings / Test Icicles / Warm Brains), Robin Christian (Male Bonding / Public Parts / Bullet Union), Nate Nelson (White Violet), Christopher Smith (Kluster Rooms studio) and Craig Sharp (Dancehall / Spoilers). The record is released courtesy of Vibe/Anti-Vibe Recordings, a record label run by Eddie, Craig Sharp and Christopher Smith which has been steadily releasing records, tapes, CDs and paraphernalia for a variety of artists from the London scene from their studio and defacto base in Cable Street Studios, London."