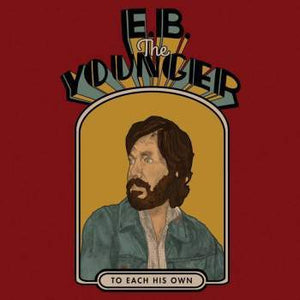 E.B. THE YOUNGER - TO EACH HIS OWN VINYL (LTD. ED. GOLD GATEFOLD)
Regular price £19.99 £17.99 Sale
LIMITED EDITION GOLD VINYL GATEFOLD
Release Date: 8th March 2019
The debut solo album from the Midlake frontman Eric Brandon Pulido, aka E.B. The Younger! The album isn't too far removed from Midlake's 70's inspired sounds, but
 

To Each His Own

 

is a looser, more fun-fulfilling affair that sways between folk-rock, alt-country, Americana and blues rock all topped of with E.B.'s incredible voice!
For Fans Of: Midlake, Father John Misty, Jonathan Wilson, Fleet Foxes
""What came before you is why you're here now," declares the man born Eric Brandon Pulido. "So embrace both the past and the present." The current frontman of Texan legends Midlake embraces both past and present times for his glorious debut solo album, 'To Each His Own', under his new enigmatic alias E.B. The Younger. It's a deeply personal record, rooted in Pulido's love of warm, glowing rock, folk and country hues that came of age in the 1970s woven with contemporary recalibrations: guitars ripple, sigh and sizzle alongside gliding keyboards over crisp, choppy and becalmed rhythms. Pulido's lyrics equally look back and forth, philosophising about his place in the world, the choices he's made, and where they have taken him. Or, as he describes 'To Each His Own', "an eleven- song journey through the life and times of a wayward Midlaker seeking to find purpose in an uncharted land. Will he find his way? Listen, and ye shall find.""