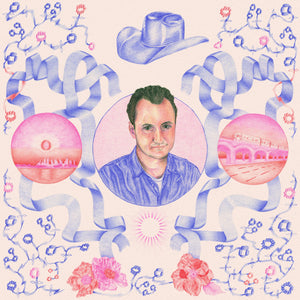 DOUGIE POOLE - THE FREELANCER'S BLUES VINYL (LTD. ED. PINK)
Regular price £19.99 Sale
LIMITED EDTION PINK VINYL

Release Date: 10th July 2020
Honky-tonking, crooning country from... New York! Yeah that's right - it's your friendly neighbourhood Dougie Poole with his masterful second album and debut on the excellent Wharf Cat Records. The Freelancer's Bluessounds at once traditional and modern in equal measure - the pedal steel's there but so is a drum machine and synths. And the lyrics are classic country tales modified to modern day mishaps, like the classic 'Vaping On The Job'. As Dougie once told us himself - "vape responsibly... (laughing cow emoji)" - there's only 1 Dougie Poole, that's for sure!
FFO: Orville Peck, Cut Worms, Alex Cameron, Purple Mountains
"The Freelancer's Blues, the second full-length LP from Brooklyn's country crooner Dougie Poole, captures its current moment like nothing else. Poole updates the storytelling backbone of country music for an audience that is young, urban, romantically alienated and financially precarious, using the same threads spun by Merle Haggard, Willie Nelson and Kris Kristofferson before him to write his own anthems for a new generation of country music fans. With his debut album Wideass Highway Dougie Poole established himself as forerunner in a class of musicians who grew up in a postgenre ecosystem equally as likely to be influenced by Ariel Pink and Animal Collective as Dolly Parton and Dwight Yoakam. On The Freelancer's Blues, Dougie graduates from drum machine and synthesizer bedroom country to a full band with honky-tonk harmonies, wailing pedal steel, and carefully constructed arrangements. Produced by Jonathan Schenke (PC Worship, Gong Gong Gong, Public Practice). The Freelancer's Blues does the seemingly impossible of staying true to Poole's heritage in the DIY scenes of New York and Providence, while simultaneously certifying him as a country music bonafide. Dougie Poole is a musician and songwriter living in Brooklyn, New York. Coming of age in Providence, he dabbled in heavier and more experimental music before maturing into a country auteur. He writes earnestly about his experience (life in the big city, heartbreak in the digital age) and approaches country as an experimental music form, as well as a tradition. He has shared tours nationally with Jerry Paper, Still Corners and Bong Wish, and in 2019 guested on the Drugdealer album Raw Honey. "Poole's warbling strings feel familiar, but his rickety production and pensive lyrics articulate a generational self-consciousness that lends the album a modern authenticity" – FADER. "The lyrical content of the ["Less Young but As Dumb"] is right there in the title, casting a disintegrated Roy Orbison pallette in the modern age, tossing traditional country tropes aside in favor of modern delusion, coping, and loss" – AdHoc."