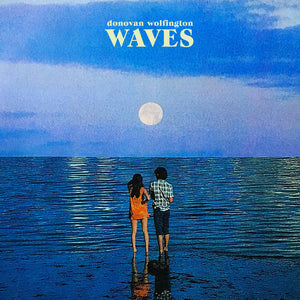 DONOVAN WOLFINGTON - WAVES VINYL (SUPER LTD. ED. PINK)
Regular price £19.99 £16.99 Sale
SUPER LIMITED EDITION PINK VINYL
Release Date: 2nd March 2017
Limited edition press of only 350! The third and final album from the New Orleans rock band who are riding into the sunset to follow pastures new (including the excellent band Pope). WAVES may be a goodbye album but it is the band's most focused and together record of the lot with it's hooky, grunge-trodden take on punk-rock evoking the sounds of alternative rock of the 90's from the likes of Archers of Loaf and Built To Spill. Farewell Donny Wolf, it's been a pleasure!
FFO: Pope, Pity Sex, Archers of Loaf, Built To Spill  
"
Donovan Wolfington now share their last recordings together as WAVES 
before wholly moving onto other projects like Buncho, Pope, New Holland, 
and solo efforts from Neil Berthier. 
WAVES presents Donovan Wolfington as centered on Berthier, already the 
band's most forefront voice. Aside from a hip hop track by drummer Mike 
Saladis, D-Wolf propels hooky riffs and combines various early '90s punk 
derivations - more directly evoking a grunge-y Archers of Load than ever. 
Berthier's lyricism continues to present each song as its own love abstracting 
his bare emotions into smoke signals."