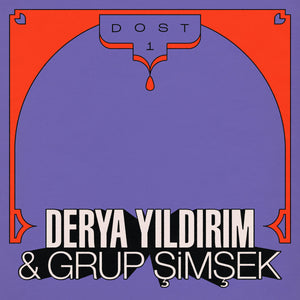 DERYA YILDIRIM & GRUP ŞIMŞEK - DOST 1 VINYL (LTD. ED. LP)
Regular price £24.99 Sale
LIMITED EDITION VINYL LP
Release Date: 5th March 2022
Limited pressing of 1,500.


"Grup Şimşek is a fresh and modern pop - group which combines Anatolian Folk and contemporary grooves, often contaminated by psychedelia and progressive rock flavours.
Led by Derya Yıldırım's hypnotizing bağlama and vocals, the group draw a meaningful continuity from the Turkish folk repertoire to heir original songwriting, with a strong sound identity and a dancefloor - friendly energy.
This June, Derya Yıldırım & Grup Şimşek, along with Swiss label Bongo Joe, are getting ready to release the new LP Dost, the collective's second album and first of two to be released this year.
Turkish singer and saz player Derya Yıldırım has been burning the candle for Turkish folk and psychedelia since her infamous performance at the New Hamburg Festival back in 2015. Soon after, Grup Şimşek was born and there started a ri ch journey of musical feast, exploring and rendering new versions of Anatolian classics as well as building a songbook of original compositions, with references to the music of The Doors, west coast US psych, Turkish musical activist and hero Selda Bagçan and many heroes of musical Anatolia. Grup Şimşek are itinerant by nature. They live apart across various European homes and span Turkish, German, French and English heritage with Derya living in Berlin. Despite this spatial incongruence, the group's harmo ny oozes through their music with a rich stew of funk - noir groove, organ energy, hypnotic saz (Turkish stringed instrument) and synths all layered beneath Derya's warm sometimes heartfelt vocal, singing verse and poetry, borrowed, evolved and new."