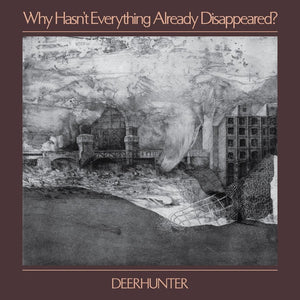 DEERHUNTER - WHY HASN'T EVERYTHING ALREADY DISAPPEARED? VINYL (GREY LP)
Regular price £19.99 £15.99 Sale
GREY VINYL LP
Release Date: 18th January 2019
Bradford Cox and the boys are back for their 8th album, and with it comes a move away from their well-known nostalgic, reverb-laden guitars and instead a reinvention of keyboards and harpsichord. Yet this is still unmistakably Deerhunter and still maintains kaleidoscopic reverb throughout!
FFO: Panda Bear, Destroyer, Lost Under Heaven, Yo La Tengo
"As thrilling and unpredictable as anything in Deerhunter's near 15-year career, Why Hasn't Everything Already Disappeared? was recorded in several strategic geographic points across North America, and produced by the band, Cate LeBon, Ben H. Allen III, and Ben Etter. Forgetting the questions and making up unrelated answers, Deerhunter's eighth LP is a science fiction album about the present. Exhausted with the toxic concept of nostalgia, they reinvent their approach to microphones, the drum kit, the harpsichord, the electromechanical and synthetic sounds of keyboards. Whatever guitars are left are pure chrome, plugged straight into the mixing desk with no amplifier or vintage warmth."