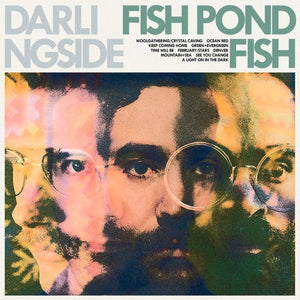 DARLINGSIDE - FISH POND FISH VINYL (LTD. ED. BABY BLUE)
Regular price £17.99 £14.99 Sale
LIMITED EDITION BABY BLUE VINYL
Release Date: 30th October 2020
The Massachusetts band bring us one of the best examples of modern emotive folk-rock this year. Mixing harmony-heavy chamber-pop with folk-rock, 
Fish Pond
 Fish
 goes from climatic and epic one moment to hushed and intimate the next. Likely to have swam under the radar this year – make sure you 'catch' it before 
its
 too late! 
FFO: Fleet Foxes, Bonny Light Horseman, S. Carey, Local Natives
"Where Birds Say reminisced on the past and Extralife looked to imagined futures, Darlingside's new album Fish Pond Fish concerns the claustrophobia of the here and now. Some of the most consistent themes on the album are the desire to return to past states ("Keep coming home," "take me back to south of Denver") on one hand and change on the other. In some cases, repetition and return are a desirable way to deal with uncertain times; in others, the stagnancy of the present is overwhelming. Much of the album lives in the space between repetition and change, and considers how those two pieces complement one another — how either one can be a stress or a salve depending on the circumstances, and how even change itself predictably repeats. As the band sings, "things will change, and change again." The sense of an 'eternal present' came into sharper focus with the coronavirus quarantine, which fell into place just as the band was finalizing the last batch of songs and forced the cancellation of the final weeks of recording at Tarquin Studios with Grammy Award-winning produced Peter Katis (Interpol, The National). Since the band was unable to meet up in-person during the quarantine, each member set up a home recording rig to capture sounds individually, while mixing, writing, and arrangement decisions were all carried out virtually. Since the band's favored approaches for sound capture (playing and/or singing together around one mic, for example) and in-studio discussion were made impossible by the quarantine,the group was forced to lean more heavily on individual experimentation and decision-making, both in recording and editing — as a result, the entire album bears an imprint of each of the four members in a way their previous releases have not. Likewise, at Katis' suggestion, many components of their informal demos were preserved as layers in the produced tracks to retain the spirit of the initial recordings, resulting in a collection of songs that is simultaneously the most bedroom-tracked and production-heavy full-length album that the band has yet released."