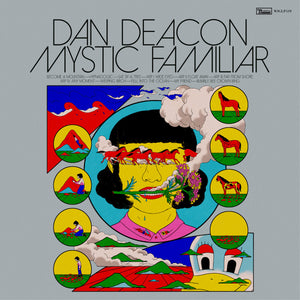 DAN DEACON - MYSTIC FAMILIAR VINYL (LTD. ED. SILVER)
Regular price £23.99 £21.49 Sale
LIMITED EDITION SILVER VINYL

Release Date: 31st January 2020
Dan Deacon's first album since 2015's Gliss Riffer is here to show us all what we've all been missing! Deacon's unique talents are on display with Mystic Familiar from the magic to the manic moments that play out like a mad fever-dream acid-trip. Strap yourself in and get ready for the synth-fuelled electro-noise-rock ride!
For Fans Of/You May Also Like: Panda Bear, Animal Collective, Holy Fuck, Battles
"'Mystic Familiar', Dan Deacon's new album, is the result of years of obsessive work, play and self- discovery. It's at once his most emotionally open record and his most transcendent, 11 kaleidoscopic tracks of majestic synth-pop that exceptionally expand his sound with unfettered imagination and newfound vulnerability. Since 2015's 'Gliss Riffer', Deacon has branched out into an array of collaborative projects including film scores to Rat Film, HBO's Well Groomed, ESPN's 30 for 30: Subject to Review; collaborating with the NYC Ballet's resident choreographer Justin Peck, LAPhil and Baltimore Symphony Orchestra."