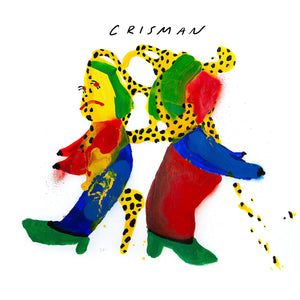 CRISMAN - CRISMAN VINYL (LTD. ED. RED/BLUE/YELLOW TRI-COLOUR IMPORT)
Regular price £23.99 Sale
LIMITED EDITION RED/ BLUE/ YELLOW TRI-COLOUR VINYL IMPORT
Release Date: 1st May 2020
The debut album from the lo-fi slowcore indie-rock of the Texas-based band fronted by Madeline Crisman. Crisman is a short, snappy collection of emotive tunes that sway from quirky but heartfelt moments to delicate and twee tones conjuring us the likes of Alex G, Frankie Cosmos and Hovvdy, among other contemporaries. Colourful! 
FFO: Alex G, Frankie Cosmos, Hovvdy, addy
"Madeline Crisman's visual artwork playfully relays adult themes through childlike imagery. But with her band Crisman, she swaps the acrylics and spray paint for hazily-filtered vocals gently layered over slowcore instrumentals to find yet another medium for masking emotional turmoil with innocence. The contrasting maturity and juvenility of Crisman's paintings are refracted throughout the measured ten-song collection. To lend its start-stop riffs an emotional touchstone, the melancholic and sinuous lead single "Surprise" pulls from childhood memories of wanting to be included and feeling misunderstood. On 'Cya,' the band employs acerbic distortion and twinkling arpeggios to explore the immaturity and inevitability of trying to forget a person or feeling that lingers far too long, where final single "Icee Blue" is about experiencing the infectiousness of a romance, a thematic reproduction of the song's infectious composition."