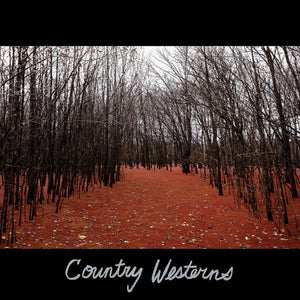 COUNTRY WESTERNS - COUNTRY WESTERNS VINYL (LP)
Regular price £16.99 Sale
Release Date: 26th June 2020
The debut album from the 3-piece 'country-punks' Country Westerns, featuring former members of the Silver Jews, State Champion and The Weight. Their self-titled album is countrified punk-rock with Americana, grunge, noise and garage rock elements but all rounded off with catchy hooks and haggard harmonies (the best kind). Presented in the perfect lo-fi fashion, listening to this just makes you want to be back in the pit - but for now, we'll have to settle for this album cranked up loud with a beer in hand. It's a pretty good compromise! 
For Fans Of/You May Also Like: The Men, Silver Jews, Richmond Fontaine, Dyke Drama
"Hi it's Matt Sweeney, I produced this Country Westerns album you have. Here's some other facts about Country Westerns, who I loved from the first time I saw them play: Singer guitarist and Atlanta native Joey Plunkett left NYC for Nashville 10 years ago, after making a name for himself in that city's rock and roll underground as the leader of Brooklyn legends The Weight and hustling bass for Gentleman Jesse. Nashville drummer and songwriter Brian Kotzur was the star of Harmony Korine's "Trash Humpers". Kotzur also wrote the film's score. He was a member of the Silver Jews. Country Westerns started as an outlet for Plunkett and Kotzur to play music almost in spite of being in the middle of Nashville's hungry music scene. Their idea was to make "depressing songs with fun drums". Over a year they met up twice a week, made up songs that they liked, and played them to an audience of David Berman in Kotzur's garage. They played parties sometimes. This period was a kind of a state of grace- they liked writing and playing, they liked hearing Joey sing. Pressure was off. Still is, I guess. But anyway, everyone won. Sometimes they even played shows with a sax player. This is around when I saw them at Soft Junk, Nashville's premier DIY party performance art space. In Spring 2019 their esteemed colleague Sabrina Rush joined as a bass player because she'd never played bass before. She'd played violin in State Champion and managed managed tours for bands you like. Her melodic approach to bass elevated the Country Westerns sound. So David Berman encouraged them to leave the unmusical climate of Nashville to record a couple of songs with me at Strangeweather Studios in New York City (aka Music City) without a label, on their own dime. The idea was to capture the urgency of their love show. We all liked how it sounded so we dug into our pockets and did another session there a little while later. Fat Possum heard the results, found our efforts "casually profound" and gave them a record deal. There's a rare emotional weight and poetry to Country Westerns' music that hits the spot so hard for me. Hope you dig."