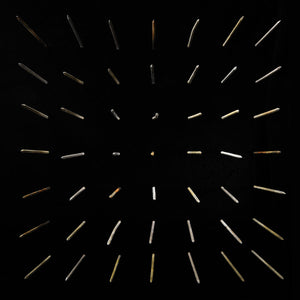 CLIPPING - THERE EXISTED AN ADDICTION TO BLOOD VINYL (LTD. 'LOSER' ED. SILVER 2LP GATEFOLD)
Regular price £28.99 Sale
LIMITED 'LOSER' EDITION SILVER 2LP VINYL GATEFOLD
Release Date: 18th October 2019
Clipping, aka the LA trio of rapper Daveed Diggs and producers William Hutson and Jonathan Snipes, are back with another intriguing concept album - this time a left-field hip-hop interpretation of the 1970's vampire film Ganja & Hess. There Existed An Addiction To Blood is the meeting point between hip-hop and sci-fi and horror soundtracks - or as Clipping call it - a transmutation of horrorcore, a absurdist sub-genre that flourished in the mid-90s. Whatever you'd call it, this is some in-depth, interesting piece of work!
For Fans Of: Shabazz Palaces, Knife Knights, Wiki, Death Grips
"The science-fiction visionary Octavia Butler once declared that "there is nothing new under the sun, but there are new suns." The aphorism could apply to any art form where the basic contours are fixed, but the appetite for innovation remains infinite. Enter Clipping, flash fiction genre masters in a hip-hop world firmly rooted in memoir. If first person confessionals historically reign, the mid-city Los Angeles trio of rapper Daveed Diggs and producers William Hutson and Jonathan Snipes have spent the last half-decade terraforming their own patch of soil, replete with conceptual labyrinths and industrial chaos. They have conjured a mutant emanation of the future, built at odd angles atop the hallowed foundation of the past. Their third album for Sub Pop, 'There Existed An Addiction To Blood', finds them interpreting another rap splinter sect through their singular lens. This is Clipping's transmutation of horrorcore, a purposefully absurdist sub-genre that flourished in the mid-90s. If some of its most notable pioneers included Brotha Lynch Hung and Gravediggaz, it also encompasses seminal works from the Geto Boys, Bone Thugs-N- Harmony and the near-entirety of classic Memphis cassette tape rap. The most subversive and experimental rap has often presented itself as an 'alternative' to conventional sounds but Clipping respectfully warp them into new constellations. 'There Existed An Addiction To Blood' absorbs the hyper-violent horror tropes of the Murder Dog era but re-imagines them in a new light: still darkly-tinted and sombre but in a weirder and more vivid hue. The album contains interludes with hissing recordings of demonic invasions and guest appearances from Griselda Gang's Benny the Butcher and Hypnotize Minds horror queen La Chat. Other tracks feature contributions from noise music legends The Rita and Pedestrian Deposit. It all ends with 'Piano Burning', a performance of a piece written by the avant-garde composer Annea Lockwood. Yes, it is the sound of a piano burning. 'There Existed An Addiction To Blood' fits neatly into the broader scope of the band's career, which has seen them expand from insular experimentalists into globally recognized artists. Since the release of their first album in 2013, Diggs has won a Tony and a Grammy (both for his acting/rapping work as Thomas Jefferson and Marquis de Lafayette in Hamilton), as well as co-written and starred in 2018's critically hailed Blindspotting, while Snipes and Hutson have scored numerous films and television shows. Clipping's last album, the 2016 afro-futurist dystopian space opus 'Splendor & Misery' was recently named one of Pitchfork's Best Industrial Albums of All-Time. Commissioned for an episode of This American Life, their 2017 single 'The Deep' became the inspiration for a novel of the same name, written by Rivers Solomon and published by Saga Press. But their latest masterwork embodies what the band had been building towards - a work that finds them without peer. This is experimental hip hop built to bang in a post-apocalyptic club bursting with radiation. It's horrorcore that soaks up past blood and replants it into a different organism, undead but dangerously alive. It is a new sun, blindingly bright and built to burn your retinas."