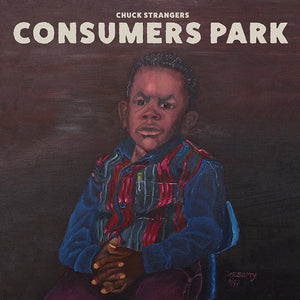 CHUCK STRANGERS - CONSUMERS PARK VINYL (2LP)
Regular price £26.99 Sale
Release Date: 25th May 2018
Pro Era's Chuck Jessamy, aka Chuck Strangers, steps out in-front with his debut album Consumers Park. Having spent his career behind the desk, producing tracks for the likes of Pro Era fellow Joey Bada$$, the producer and rapper brings us a fresh and classy hip-hop record which delves into 'golden-era' hip-hop beats and free-flowing MCing, as well as soul touches. Don't be a stranger to the Strangers! 
FFO: Joey Bada$$, Earl Sweatshirt, Freddie Gibbs, Oddisee
"Since bursting onto the scene in 2012, Brooklyn hip-hop collective Pro Era has sent shockwaves through the culture. Crew leader Joey Bada$$ has become one of rap's biggest stars, and artists like Kirk Knight, Nyck Caution, and CJ Fly have launched successful solo careers. Chuck Strangers has been a key member of Pro Era from the start, producing countless classics for Joey Bada$$ and others. Now, the talented rapper/producer presents his highly-anticipated debut album, Consumers Park. Primarily produced by Chuck Strangers himself, Consumers Park is sonically masterful, with a heavy emphasis on raw, soulful vibes. This provides a platform for Chuck to showcase his impressive rap skills, with vivid, nostalgic, witty, personal rhymes that perfectly capture the rising star's ongoing journey from Flatbush to international hip-hop notoriety."