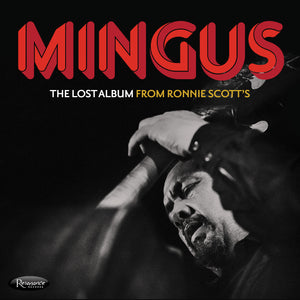 CHARLES MINGUS - THE LOST ALBUM FROM RONNIE SCOTT'S VINYL (SUPER LTD. ED. 'RECORD STORE DAY' 3LP)
Regular price £79.99 Sale
SUPER LIMITED EDITION 'RECORD STORE DAY' 3LP VINYL
Available from Saturday 23rd April in-store on the day. Strictly 1 per customer. Any remaining stock will be made available online from 8pm on Friday 29th April.
STRICTLY 1 PER CUSTOMER - ANY MULTIPLE ORDERS WILL NOT BE FULFILLED AND WILL INCUR REFUND FEES
Release Date: 23rd April 2022


"The Lost Album from Ronnie Scott's is a never-before-released live recording of jazz icon Charles Mingus from Ronnie Scott's jazz club in London captured in August of 1972. Features a stellar band with alto saxophonist Charles McPherson, tenor saxophonist Bobby Jones, trumpeter Jon Faddis, pianist John Foster and drummer Roy Brooks. The limited-edition 3-LP 180-gram is mastered by acclaimed vinyl mastering engineer Bernie Grundman and pressed by RTI (also available as a deluxe 3-CD set). Includes an extensive insert with rare photos from Jan Persson, Christian Rose, Jean-Pierre Leloir, Hans Harzheim and others; essay by British jazz author Brian Priestley, who saw the band during this run and conducted an interview with Mingus and McPherson at the time; interviews with band members McPherson and Faddis; Mingus' friend, author Fran Lebowitz; and many others."