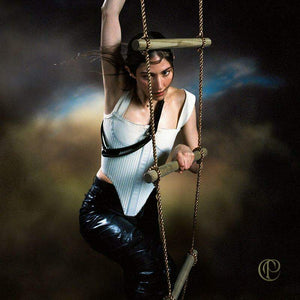 CAROLINE POLACHEK - PANG VINYL (180G LP + POSTER)
Regular price £18.99 Sale
Release Date: 17th July 2020 

The debut solo album from the former Chairlift member is a mesmerising masterpiece of mystery. Pang plays out like a lucid dream with wave upon wave of swooning synth sumptuousness to soundtrack Polachek's angelic limitlessly ranged vocals, whilst experimental sound explorations excavate underneath it all. Pangful!
FFO: Lydia Ainsworth, The Japanese House, Jenny Hval, Briana Marela
"Caroline Polachek has already lived an extraordinary life in music: her previous band Chairlift formed in 2006 whilst Caroline was still in art school; and in 2008 the band was thrust into the spotlight when "Bruises" was synched in an iPod commercial as the Brooklyn indie scene peaked as an international export. Caroline's idiosyncratic vocal style and synth textures quickly became their sonic trademark, and continued to evolve through their three critically acclaimed albums into a new, more modular kind of pop experimentation. Caroline expanded into production in 2013, landing her first credit writing and producing on Beyonce's grammy-nominated self-titled album. Restless while making Chairlift's third (and final) record "Moth", Caroline quietly fostered two side projects: baroque girl-group Ramona Lisa, and minimal synth project CEP. Moving fluidly through radically different genres, Caroline collaborated with dozens of artists (Blood Orange, SBTRKT, Charli XCX) ; sometimes writing, sometimes singing, sometimes directing videos, and sometimes all three. Chairlift disbanded in 2017 and Caroline feverishly began writing for her first solo project under her own name. For the first time, the DNA from these seemingly different projects fit together perfectly; the playfulness of Chairlift, the theatricality of Ramona Lisa, futuristic glimmerings of CEP, plus a new mastery of her voice and thick rolodex of keen collaborators. Fast forward two years spent manically between the studio and navigating a series of personal crossroads, and "Pang" marks the beginning of a new chapter. It is the most ambitious, hardcore and beautiful album of her career to date. With her signature 'organic autotune' and liquid lyricism finally center stage, the record positions her firmly as one of the most singular and captivating singers of a generation."