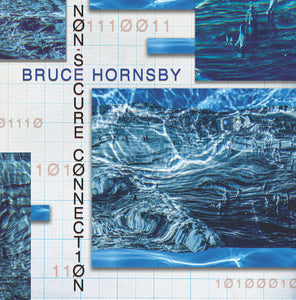 BRUCE HORNSBY - NON-SECURE CONNECTION VINYL (LTD. ED. AUTOGRAPHED BLUE)
Regular price £17.99 Sale
LIMITED EDITION AUTOGRAPHED BLUE VINYL
Release Date: 28th August 2020
The renascence of Bruce Hornsby continues with this latest gem! 
Non-Secure Connection
 features collaborations from the likes of Justin Vernon (Bon Iver), James Mercer (The Shins and Broken Bells), Jamila Woods, Vernon Reid (Living Colour), and the late Leon Russell. Connect!
FFO: Bon Iver, The Shins, Jamila Woods, Blake Mills
"Bruce Hornsby is on a roll. After taking the music world by surprise with his wide-ranging, critically acclaimed 2019 album Absolute Zero, the singer, songwriter, composer and bandleader returns with a follow-up that picks up where its predecessor left off. Non-Secure Connection features 10 new songs exploring a broad range of themes, from civil rights to computer hackers, mall salesmen to the Darwinian aspects of AAU basketball. Hornsby plays piano, of course, but the songs on Non-Secure Connection also feature Hornsby's electric sitar and Chamberlin, along with guitars, horns, strings and subtle samples from sources as varied as minimalist composer John Cage and Scottish rockers Franz Ferdinand. Like Absolute Zero, Non-Secure Connection also features a wealth of collaborators: singer James Mercer of The Shins and Broken Bells, singer and poet Jamila Woods, Living Colour guitarist Vernon Reid, Bon Iver leader Justin Vernon and the late Leon Russell, who appears thanks to a demo that he and Hornsby recorded together more than 25 years ago."