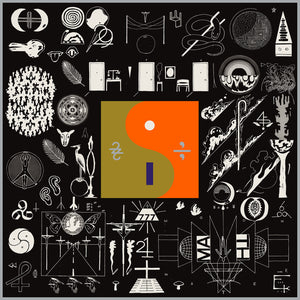 BON IVER - 22, A MILLION VINYL (SUPER LTD. ED. 'LOVE RECORD STORES' TRANSLUCENT RED GATEFOLD)
Regular price £24.99 Sale
STRICTLY 1 PER CUSTOMER - ANY MULTIPLE ORDER WILL NOT BE ACCEPTED
SUPER LIMITED EDITION 'LOVE RECORD STORES' TRANSPARENT RED VINYL GATEFOLD
Release Date: 20th June 2020
Super limited-edition LOVE RECORD STORES release. Available from 9am on Saturday 20th June, on a

 first come first served basis. Strictly 1 per customer.
The five year wait is over. We finally have a new Bon Iver record to get all giddy about! Justin Vernon returns in an ever more reflective mood as he traces over intense memories in search for some sort of self-understanding whilst everything around him feels and sounds like it's breaking apart. 22 A Million sees Vernon moving even further away from the sound of his debut For Emma Forever Ago - guitars are pushed to the background as electronics take centre stage songs take on their own structure and course and Vernon's voice is manipulated regularly. In reflecting the feelings and emotions of life itself - the record is beautiful sad melancholic fragile and fuelled by the underlying poignant message: it might be over soon.