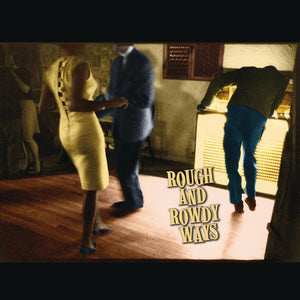 BOB DYLAN - ROUGH AND ROWDY WAYS VINYL (LTD. ED. OLIVE GREEN 2LP GATEFOLD)
Regular price £26.99 £19.99 Sale
LIMITED EDITION OLIVE GREEN 2LP VINYL GATEFOLD

Release Date: 17th July 2020
The musical legend that is Bob Dylan brings us his 39th (yes, 39th!) studio album of his long and prestigious career and it is a massive return to form and perhaps the greatest in decades! Crooning his way through the classic sounds of Dylan past - folk, blues and rock,
 

Rough and Rowdy Waysalso features the stand-alone track 'Murder Most Foul' complete with it's own album cover on the reverse. 
FFO
: Ratso, Townes Van Zandt, Leonard Cohen, Tom Waits
""Rough and Rowdy Ways" is the eagerly-anticipated, upcoming 39th studio album by American singer-songwriter Bob Dylan. It will be Dylan's first album of original songs since his 2012 album 'Tempest'. The new album has been preceded by the singles "Murder Most Foul", "I Contain Multitudes", and "False Prophet"."