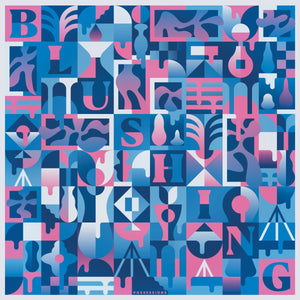 BLUSHING - POSSESSIONS VINYL (LTD. ED. CLOUDY CLEAR)
Regular price £21.99 Sale
LIMITED EDITION CLOUDY CLEAR VINYL
Release Date: 25th February 2022


"Shoegaze lovers rejoice in the sounds coming from Blushing's new album Possessions out February 18, 2022 on Kanine Records. With lead single "Blame" featuring Miki Berenyi of the great 90's shoegaze, indie pop band LUSH and currently of Piroshka, along with Mark Gardener of RIDE lending a hand on mixing and mastering, Possessions serves as a 1990s transport. Complete with charismatic vocals, dreamy guitar hooks and swirling bass lines, it is an album filled with dream pop intensity.
Blushing features two husband and wife duos consisting of Michelle Soto (guitar, vocals), Jacob Soto (drums), Christina Carmona (vocals, bass), and Noe Carmona (guitar). Jacob and Noe have been lifelong friends that played in bands growing up in El Paso, TX. Their natural chemistry and like-minded musical influences helped solidify their ongoing writing process.
When Blushing went into the studio December 2019 to record Possessions with engineer and producer Elliott Frazier of Ringo Deathstarr, they had no idea just how much the world would soon change. The studio served as a soundproof safe room for the band, offering an escape from the noise of a mad world all around. When everything was finally complete, what revealed itself was an album emerged from new depths, heavier in some ways and lighter in others. Embracing the spectrum of life and relationships while understanding the need for escape and whimsy. The album title "Possessions" is an observation of the frenetic time in which it was created.
Blushing is a part of the modern dream pop and shoegaze community that has helped Blushing create an album that all indie music lovers need to hear. Fans of LUSH, Cocteau Twins, My Bloody Valentine, RIDE, Slowdive won't be able to resist this album."