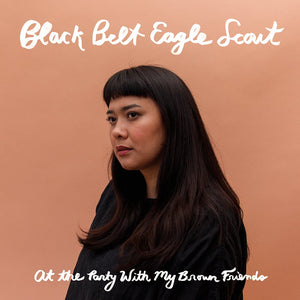 BLACK BELT EAGLE SCOUT - AT THE PARTY WITH MY BROWN FRIENDS VINYL (LTD. ED. MAROON GATEFOLD)
Regular price £17.99 Sale
LIMITED EDITION MAROON VINYL GATEFOLD
Release Date: 30th August 2019
Katherine Paul, aka Black Belt Eagle Scout, is back hot on the heels of her superb debut album from last year, Mother of My Children. At The Party With My Brown Friends sees KP expanding her sound outwardly and growing even more confident in herself as both a songwriter and as an indigenous queer feminist - all of which makes her brand of emotive, indie-folk-rock so engaging yet thoughtful and meaningful. Maginficent! 
For Fans Of: Jay Som, SASAMI, Long Beard, Japanese Breakfast
"Released in September of 2018, Mother of My Children was the debut album from Black Belt Eagle Scout, the recording project of Katherine Paul. Heralded as a favorite new musician of 2018 by the likes of NPR Music, Stereogum, and Paste, the album was also named as a "Best Rock Album of 2018" by Pitchfork, and garnered further end-of-year praise from FADER, Under The Radar and more. Arriving just a year after that debut record, At the Party With My Brown Friends is a brand new full-length recording from Black Belt Eagle Scout. Where that first record was a snapshot of loss and landscape and of KP's standing as a radical indigenous queer feminist, this new chapter finds its power in love, desire and friendship. At the Party With My Brown Friends is a profound and understated forward step. The squalling guitar anthems that shaped its predecessor are replaced by delicate vocals and soft keys, sentiments spoken and unspoken, presenting something shadowy and unsettling; a stirring of the waters. The end result presents a captivating about-face that redefines KP's beautifully singular artistic vision."