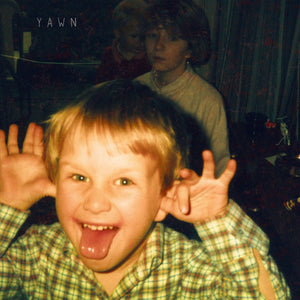 BILL RYDER-JONES - YAWN VINYL (HEAVYWEIGHT LP)
Regular price £23.99 Sale
HEAVYWEIGHT VINYL LP
Release Date: 2nd November 2018
The former guitarist in The Coral, Bill Ryder-Jones, brings us his 4th and best solo record to date with an intimate yet immersive set of slow-burning, guitar-ladened rock songs that sit somewhere between 90's British-indie, post-rock and shoegaze that are somehow as epic and they are subtle. There won't be any yawning had with this one though! 
For Fans Of: The Coral, The Amazing, Mogwai, The Districts
"Yawn is a buckle-up and knuckle-down listen that rewards the listeners' attention with motifs and melodies that play hide and seek but never fail to deliver on those between-the-lines verities. This musical belief of delayed gratification is something Bill learnt from classical music as a child, from Elgar and Debussy in particular – and over the long hall of his short life, you can hear these riches being polished on Yawn. Most of the 10 songs clock-in over the 5 minute mark and this wide-angle lens affords us time to interpret and translate meaning – or just to revel in it. Multi-instrumentalist, producer, string-arranger and composer Bill Ryder-Jones has had a career spanning 15 years, a rarity in a world that so often looks to the new. From his musical interpretation of Italo Calvino's If On A Winters Night A Traveller (If… in 2011), 2013's A Bad Wind Blows In My Heart, the acclaimed West Kirby County Primary (2015) and now to Yawn, Bill has constantly widened his scope, weaving in an overarching sense of authenticity, intimacy and wryness as he goes. Yawn was recorded and produced entirely by Bill himself, with a little help from friends including guest vocals from The Orielles and Our Girl, cello by Rod Skip and mixing by Craig Silvey (Portishead, The Horrors, Arcade Fire). Bill has also been steadily building up a list of album production credits for other musicians including Our Girl, Hooton Tennis Club, Brooke Bentham and Holly Macve, who he records at his own place in West Kirby, aptly titled Yawn Studios."