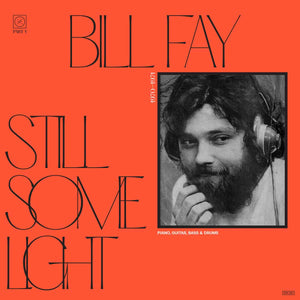 BILL FAY - STILL SOME LIGHT: PART 1 VINYL (2LP)
Regular price £28.99 Sale
2LP VINYL
Release Date: 14th January 2022


"Bill Fay has always sung about attempting to understand the most universal questions: those of nature, spirituality, humanity. His songs are "calming hymns for another chaotic time," he says. His influence can be traced through many artists' work, and so it only seemed right to celebrate this with a collection of newer voices interpreting his timeless tracks.
Originally released in 2010 by David Tibet (Current 93), 'Still Some Light' was released as a double CD, made up of 70's album demos (Disc One) and 2009 home recordings (Disc Two). This year, for the first time, this collection of recordings will be pressed to vinyl, presented alongside contemporary re- imaginings of the tracks by Kevin Morby, Steve Gunn, Julia Jacklin and Mary Lattimore.
Bill Fay's words and melodies remain unaffected by the passing of time and changing trends; and here alongside the original recordings, these reinvented versions still calmly guide us through another moment of chaos.
Bill Fay's 'Still Some Light' was originally released on compact disc as a two CD collection in 2010. Reimagined with new artwork and available for the first time ever on vinyl, Dead Oceans are pleased to present 'Still Some Light: Part 1', collecting Fay's archival recordings from 1970 and 1971.
Many of the songs are intimate sketches which were eventually re-recorded for Fay's self-titled debut and for his landmark album, 'Time of the Last Persecution'. This double LP set includes heart wrenching versions of some of his timeless works, such as 'I Hear You Calling' and 'Pictures of Adolf Again' and features equally powerful songs like 'Arnold is a Simple Man' and 'Love is the Tune', which only appear in this collection."