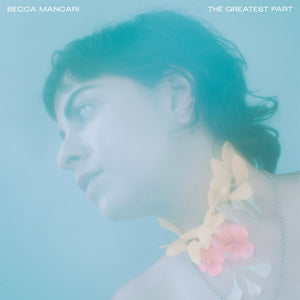 BECCA MANCARI - THE GREATEST PART VINYL (LTD. ED. COKE BOTTLE CLEAR)
Regular price £17.99 Sale
Release Date: 26th June 2020

The second album, and first on Captured Tracks, from the American singer-songwriter, Becca Mancari. The Greatest Part is a generous mix of indie rock, pop and folk with smatterings of hazy dream-pop, electro-pop flourishes and even a country-coated finish. This all culminates in an endearing and emotive experience that will keep you company for years to come!
For Fans Of/You May Also Like: Faye Webster, Anna Burch, Jess Williamson, Gia Margaret
"Born on Staten Island to an Italian/Puerto Rican family with strict religious beliefs, Becca Mancari spent much of her childhood wrestling with issues of identity and belonging. When she set out on her own, Mancari followed the wind from Appalachia to Arizona, from south Florida to India, drifting in search of purpose and community. She eventually found both in East Nashville, where she garnered widespread acclaim for her strikingly honest songwriting and moving performances. Her debut Good Woman was a critical smash, praised by NPR and hailed as one of 2017's best by Rolling Stone. Her songs racked up millions of streams, which helped land Mancari dates with the likes of Margo Price, Natalie Prass, and Julien Baker, among others. On top of her solo work, Mancari also teamed up with Alabama Shakes frontwoman Brittany Howard and songwriter Jesse Lafser to form Bermuda Triangle, which earned similarly glowing reviews as they performed sold-out headline shows across the country. Despite all her success, the relentless pace of life on the road left Mancari little time to grapple with the trauma of her past, nor absorb any new challenges arising in her present. So, in 2019, Mancari decamped to friend and producer Zac Farro's home studio to set about constructing her sophomore album, a record that would balance unflinching self-examination with intoxicating grooves and infectious instrumental hooks. The two worked to capture the vast majority of the album themselves in Nashville before relocating to Los Angeles for finishing touches with GRAMMYwinning engineer/producer/mixer Carlos de la Garza (Paramore, Tegan and Sara). The result is The Greatest Part. Propelled by an airtight drum groove and lacerating guitar line, hypnotic opener "Hunter" finds Mancari singing to a ghost from her past, promising, "You're never gonna track me down / You're never gonna find me out," her crystalline voice floating effortlessly above the distorted maelstrom brewing below it. Like much of the album, it's a song of defiance and self-assurance that's streaked with loneliness and regret. To that end, earworm "Lonely Boy" reflects on the ways that fear can hold us back from human connection, while the bittersweet "First Time" reaches out to a younger self, asking "Hey, did you find your way out?" Yet, as much as The Greatest Part is a vehicle for examining Mancari's past, it's also a lens through which she makes sense of her future. Perhaps it's bare-bones album closer "Forgiveness" that best ties together all of the record's loose threads. Searching for mercy in the midst of lingering anger and grief, the hushed, intimate track locates the beauty in letting go, in accepting ourselves for all our flaws and baggage, in walking forward boldly into the unknown."