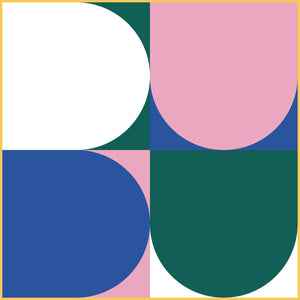 B BOYS - DUDU VINYL (LTD. ED. PINK)
Regular price £18.99 Sale
LIMITED EDITION PINK VINYL
Release Date: 26th July 2019
Limited edition pressing of only 500! The second album from the New York punk-rockers straddles the line between the iconic post-punk of the 1980's with the more playful, art-punk from contemporaries like Parquet Courts and Ought, and the noise-punk of the likes of No Age. If you're a fan of any of that, then you're in for a treat with these Boys!
For Fans Of: Parquet Courts, Ought, No Age, Omni
"New York's B Boys (Andrew Kerr, Brendon Avalos, Britton Walker) find inspiration in the chaos that surrounds them: the aggressive attitude and sonic lawlessness of the city they live, work, and breathe in every day. Their raw, yet meticulous style is characterized by rhythmic complexity, commanding riffs, and introspective lyrics that are as playful and self-aware as they are cutting. Across two acclaimed releases on Captured Tracks—2016's No Worry No Mind EP and 2017's debut full-length Dada—B Boys explore solitude and self-reflection through sharp, high-energy shouts and melodic mediations. Now, the sprightly sarcasm and acerbic commentary continues on the band's highly anticipated sophomore LP, Dudu. Recorded by Gabe Wax (Deerhunter, Ought, Crumb) at Outlier Inn, and mixed by Andy Chugg (Pill, Pop. 1280, Bambara) to be released on July 26, 2019. B Boys have toured the U.S. and Europe extensively, supporting acts such as Parquet Courts, Merchandise, Shame, Sunflower Bean, and Thee Oh Sees. Influenced by The Clash, Wire, and Talking Heads, Dudu finds B Boys picking up where they left off, pondering quotidien grievances while examining the bigger picture. On tracks like "Cognitive Dissonance" and "Automation," subtle tensions meet agonizing pressure that softly build, then explode. "I Want," featuring Pill's Veronica Torres, is a bright, feel-good critique of capitalism and greed. There's a lot of noise in the world, but what are we actually saying? On Dudu, B Boys take time to laugh, scream and chant their way through the absurdity of it all."