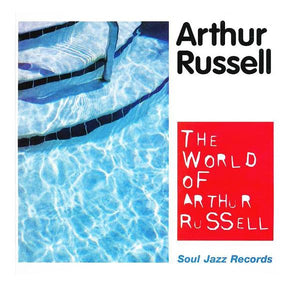 ARTHUR RUSSELL - THE WORLD OF ARTHUR RUSSELL VINYL (DELUXE HEAVYWEIGHT 3LP)
Regular price £26.99 Sale
DELUXE HEAVYWEIGHT 3LP VINYL
Release Date: 6th July 2018
Soul Jazz Records re-issue the long out of press seminal collection of Arthur Russell's best music which includes some impossible to get hold of collectors tracks from the musical pioneer. This collection of tracks showcases perfectly the wide-ranging and 

eclectic variety of Russell's output from dance music of the 80's, disco, funk, pop, and the more avant-garde and experimental. A must have for any Arthur Russell fan! 
For Fans Of: John Maus, Julia Holter, Dean Blunt, Philip Glass
"New edition of Soul Jazz Records' The World Of Arthur Russell, the seminal collection of Arthur Russell's essential music. This release features both the classic tracks of Arthur Russell such as Go Bang, Is It All Over My Face, Wax the Van alongside impossible-to-find collectors tracks such as In the Light of the Miracle and the private-pressing only Pop Your Funk. Holding a unique place in the history of music, as an artist he had the admiration of everyone from Philip Glass to Todd Terry, and as well as his solo work he also formed the seminal groups Dinosaur L and Loose Joints, redefining dance music as both an intelligent and subversive form. Russell was co-founder of Sleeping Bag records along with Will Socolov, releasing his own material, and music from Mantronix, Larry Levan, Patrick Adams, EPMD, Joyce Sims and Todd Terry amongst others. Larry Levan, Walter Gibbons and Francois Kervorkian all played pivotal roles as remixers of Russell's work and feature on many of the tracks featured here. As a regular visitor at David Mancuso's 'Loft', Nicky Siano's 'Gallery' and even Studio 54, Russell immersed himself in the New York dance scene whilst continuing to create avant-garde experimental music. These two elements in his life and music make him truly unique. Arthur Russell died in 1992 from aids leaving behind an enormous body of work."