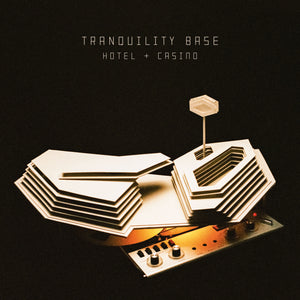 ARCTIC MONKEYS - TRANQUILITY BASE HOTEL + CASINO VINYL (LTD. ED. TRANSPARENT GATEFOLD + BOOKLET)
Regular price £23.99 Sale
LIMITED EDITION TRANSPARENT HEAVYWEIGHT VINYL GATEFOLD + BOOKLET
Release Date: 11th May 2018
The band's first album in five years, and with it, the biggest left-turn of their career in a move that maybe potentially gain the band more new fans than some old fans lost. Gone is the easily 

digestible pop and rock of their previous records for a slower tempo-ed funky, soulful lounge-pop take on 70s rock ballads. So if you've never been a fan of the band or not for a while, Tranquility Base Hotel and Casino

 

is likely to pleasantly surprise you - it did for us!  
For Fans Of: Serge Gainsbourg, David Bowie, Pulp, non-Artic Monkeys fans
"
Arctic Monkeys return with their new album, entitled Tranquility Base Hotel and Casino. Produced by James Ford and Alex Turner, the album was recorded in Los Angeles, Paris and London. Their first release since 2013's AM finds the band intent on continuing to explore new musical terrain with each album. Tranquility Base Hotel and Casino ups the ante in a big way; it is a bold and brilliant album reflecting Turner's ever more comprehensive creative vision. It's a cosmic pop opus and a complete sonic overhaul."