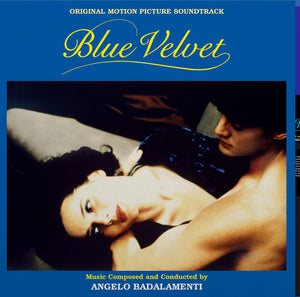 ANGELO BADALAMENTI - BLUE VELVET - ORIGINAL MOTION PICTURE SOUNDTRACK VINYL (SUPER LTD. ED. 'RECORD STORE DAY' 2LP)
Regular price £29.99 Sale
SUPER LIMITED EDITION 'RECORD STORE DAY' 2LP VINYL
Available from Saturday 23rd April in-store on the day only. Strictly 1 per customer. Any remaining stock will be made available online at 6pm.
STRICTLY 1 PER CUSTOMER - ANY MULTIPLE ORDERS WILL NOT BE FULFILLED AND WILL INCUR REFUND FEES
Release Date: 23rd April 2022

"Blue Velvet is David Lynch's unforgettable 1986 masterwork, starring Kyle MacLachlan as a curious college student, Isabella Rosselini, as a tormented lounge singer, and Dennis Hopper, as an emotional gas-sniffing psychopath. Blue Velvet was Lynch's first collaboration with his longtime composer and musical partner, Angelo Badalamenti, who channels Lynch's unique vision with a dark, moody yet melodic score, at turns agitated and violent, soaring with sublime beauty, and hanging cool with '50s-style jazz. The long available single LP has been expanded by 60 minutes to a 2 LP Deluxe Edition with the addition of the famous 1963 recording of "Blue Velvet," performed by Bobby Vinton as well as previously unreleased film cues, alternates and outtakes entitled "Lumberton Firewood." Although Blue Velvet was scored more traditionally than later Lynch projects, the director and composer intended many tracks to be merely "firewood," their term for raw orchestral sonorities to be edited and manipulated into sound design by the director. The Deluxe Edition packaging features liner notes by Tim Greiving, incorporating new interviews with David Lynch, Angelo Badalamenti, Kyle MacLachlan and producer Fred Caruso. The cover features the original 1986 Italian movie poster art designed by Enzio Sciotti. Pressed on Marbleized Blue vinyl exclusively for RSD 2022."