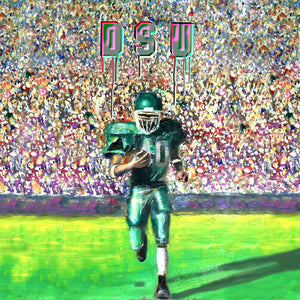 ALEX G - DSU VINYL RE-ISSUE (LTD. ED. LP + 7")
Regular price £23.99 Sale
LIMITED EDITION VINYL RE-ISSUE LP + 7"
Release Date: 4th March 2022

"DSU is the incredible breakthrough fifth album from Alex G. The first of Alex's records to be released internationally, in November 2014, DSU presented a crossover moment for the prodigious Philadelphian songwriter, then still 21 years of age and a student at Temple University. Entirely self-recorded at home, almost exclusively solo, and, until then, all self-released and available only via Bandcamp, Alex had already built a fervent online cult fan-base before his fifth album landed to a wider audience, coupled with his first shows in the UK and Europe that winter. Subsequent releases, including the first professionally mastered versions of earlier albums Trick and Rules in 2015, and his three follow up albums with Domino, have cemented him as one the best songwriters around. His fan-base, including the likes of Frank Ocean, continues to swell as more and more listeners discover his prolific back catalogue, with DSU a firm favourite and those same fans voraciously sing back every lyric at his worship-like live shows. "