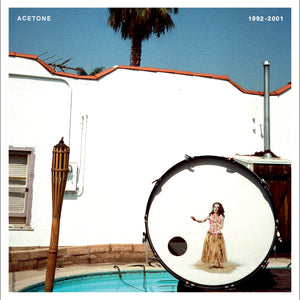 ACETONE - 1992-2001 VINYL REPRESS (LTD. ED. POOL HAZE 2LP GATEFOLD)
Regular price £49.99 Sale
LIMITED EDITION POOL HAZE 2LP VINYL GATEFOLD
Release Date: 5th May 2023
A compilation record of never-before heard tracks interspersed with some tracks from official releases during the bands timespan of 9 years. A band of sublime subtleness and silent seduction that reflects their Californian character of psych, surf and country which culminated in what can now be described as some of the best slow-core output of all time. What a find! 
FFO: The Sea and Cake, Hovvdy, Duster, Codeine
"This fall, the independent literary press All Night Menu will publish Sam Sweet's Hadley Lee Lightcap, a nonfiction novel that traces the backstories of the three members in Acetone, a band that played in Los Angeles for nine years. Though few heard them, their recordings are time capsules of who they were, how they lived, and where they came from. Light In the Attic has partnered with All Night Menu to present Acetone 1992-2001, the first anthology of the trio's music. The book and the album will be released concurrently on September 22. Counting their early years in the scuzz-rock band Spinout, whose sole self-titled release came out in 1991 on Delicious Vinyl, guitarist Mark Lightcap, bassist Richie Lee, and drummer Steve Hadley played together for a total of 15 years. They disbanded in July 2001, when Lee committed suicide in the garage next to the house where the trio practiced. Afterwards, Rolling Stone ran a short obituary saying Acetone's albums were "well received" but "failed to make any waves." It was the first and only time they were featured in the national music press. Between 1993 and 2001 the trio released two LPs and an EP on Vernon Yard—a Virgin subsidiary—and two LPs on Vapor, the L.A.-based label founded by Neil Young and manager Elliott Roberts. In that span, they were selected to tour with Oasis, Mazzy Star, The Verve, and Spiritualized. Against a rising tide of post- Nirvana grunge and slipshod indie rock, Acetone tapped into a timeless Southern California groove by fusing elements of psychedelia, surf, and country. They rehearsed endlessly in an empty bedroom in northeast Los Angeles, recording hours of music onto cassettes that were subsequently stuffed into shoeboxes and left in a shed behind the drummer's house. Those tapes are being released for the first time in this anthology, which also includes highlights from Acetone's official releases. Taken together, the songs form a companion soundtrack to Sam Sweet's book, which maps the character of Los Angeles as a place through the lens of these three unique characters bonded by music"