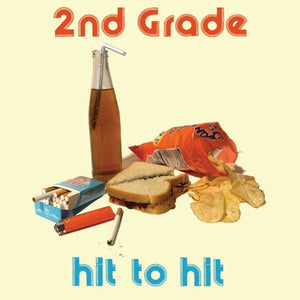 2ND GRADE - HIT TO HIT VINYL (LTD. ED. 'EASTER' YELLOW IMPORT )
Regular price £21.99 Sale
LIMITED EDITION 'EASTER' YELLOW VINYL IMPORT

Release Date: 5th June 2020
The Philly jangle-power-poppers 2nd Grade bring us 24 short snappy gems for you to play on repeat! Hit To Hit does exactly what it says on the tin with each track having its own brilliant quality from slow ballads to hook-filled indie-pop and frantic punk-rock - all with those jingle-jangle guitars and lo-fi to the max (or should that be min?). Hit it!
For Fans Of/You May Also Like:
Disq, Trace Mountains, Mike Polizze, Guided By Voices 
"2nd Grade is a power-pop band based in Philadelphia. Fronted by multi-instrumentalist and songwriter Peter Gill (of Friendship, Free Cake For Every Creature, and Flurry), the songs recall the jangly power pop ballads of Big Star, and the lo-fi short and sweet gems of Guided By Voices. From memories of love and loss in the form of recalled favorite songs on forwardly titled 'Favorite Song', to the pains and regrets associated with growing up on 'Bad Idea', 2nd Grade's music embodies a playful and romantic nostalgia in a poignant and relatable way."