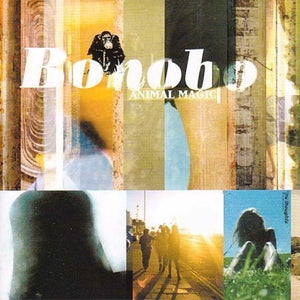 BONOBO - ANIMAL MAGIC VINYL RE-ISSUE (2LP)
Regular price £19.99 Sale
Release Date: 9th August 2019
Limited edition re-issue of Si Green (aka Bonobo)'s debut album which blends his signature sounds of breakbeat, garage, house and jazz with orchestral flourishes into one 'magical' masterpiece!
FFO: The Cinematic Orchestra, George Fitzgerald, Letherette, The Invisible
"Since first emerging at the tail end of the '90s, Simon Green aka Bonobo has become downtempo music's most marketable star. Animal Magic (originally released in 2001) is still fresh with Green's signature beats encouraging a state of relaxed bliss that begs to be basked in. This debut is a lovely little exercise in chill music, with Green blending breakbeats, pad sounds, jazzy live instrumentation and naked emotion to create a sound all his own. Downtempo electronic music often wanders into EZ-listening terrain, but Animal Magic has enough underlying feeling and intelligent arrangements to keep any listener's interest. Green has a real flair for dynamics, the melodies are a blissful, magical aroma of vibrantly lit-up sounds which all seem to standout like receiving your favourite gift for Christmas. If that wasn't enough, the drums are crisp clean and have no turn-off regarding sound quality. Those simple little drums and cymbals both function like hearing a flock of birds chirping in the morning; quiet and alluring."